JACK WALTHER in a Nutshell – from My Perspective –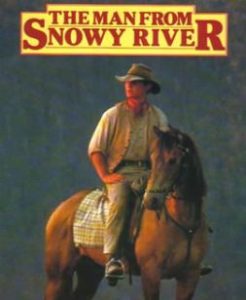 In the original Australian film, "Man From Snowy River," there is a sequence of scenes that helps illustrate my relationship with Jack & Irene Walther.
The scenes start out with a discussion among the jackaroos (Australian cowboys) in the station (ranch) bunkhouse about the much anticipated arrival of the legendary "Clancy" who is a renowned "horseman" and "no ordinary rider," coming to help with the gather.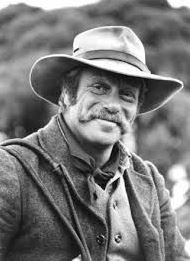 In excitement about that prospect, young mountain boy Jim Craig blurts-out to the other riders in the bunkhouse that he knows Clancy, and says "he and my father were mates" (good friends), to which the other riders scoff and pooh-pooh his claim. Jim is soon vindicated, however, and the other scoffing riders are put in their places when Clancy does arrive, and walks straight up to young Jim, shakes his hand, and expresses his regrets about the passing of Jim's father. Then, as he was turning to walk away Clancy confirms Jim's previous claim by saying, "he was a good mate." At that point, the young Craig's nose lifts a little higher, and he immediately has some degree of credibility that did not previously exist.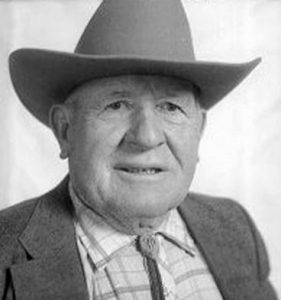 I suppose most of my own life my nose may have been lifted a little higher than it might have otherwise been because I could legitimately say that my father and Jack Walther were mates – good friends, and that in fact both my parents and Jack & Irene had all been good friends, and kindred spirits of sorts. In fact, Irene and my mother had been pen pals for a time, and had a collection of correspondence keeping each other up to speed regarding the happenings in each of their respective worlds – clear up until my mother's passing.
The original common link, and the thing that had initially brought them all together over 35 years ago was their mutual interest in Suffolk Punch draft horses. And I was fortunate enough to get in on a little bit of that, and be part of that myself. Although in most cases Jack's closest friends were neighbors and people in Northern Nevada, the fact that my dad was also listed as one of Jack's honorary pallbearers is evidence that I haven't been making all this up. In my case, it was the functional equivalent of Clancy confirming in public Jim Craig's claim that Clancy and his father had been friends.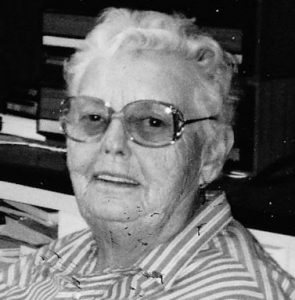 Jack Walther died on Apirl 10, 2016, not long after our mutual friend and Jack's contemporary, Bert Smith passed.  Click here to see Jack's Obituary in the Elko Daily Free Press.  Jack's wife, Irene, passed just over a month later, on May 21, 2016.  Click here to view Irene's Obituary in the Elko Daily Free Press. You can also CLICK HERE to read my rememberances of our mutual friend, Bert Smith .
By way of background, I don't remember exactly how old I was when my dad let me tag along on his first horse trading trip to Elko County, as he sought to acquire his start in the draft horse business. Because he was a relative newcomer to the world of draft horses, be brought along an old, veteran horseman, Ray D. Christensen, who was something of a mentor in that regard. This was approximately 1972. I was about 10 years-old at the time, and for a Utah farm boy and wannabe cowboy, it was quite an adventure. We were headed to the Marble Ranch in Deeth (North of Elko), which had quite a herd of Suffolk horses at that time. Much of the original stock had come from an outfit in Ironsides, Oregon, and many of those horses' registered names included the prefix "Ironsides."
John Welch was running the Marble place at the time, and it was my first exposure to big ranches and the buckaroo style of Nevada cowboys. Over the course of several trips, however, we had relative full exposure, from the opportunity to become acquainted with the Welch family, and see their spade bit collection, and life on a real cow outfit (including propane lights, radio phones, etc.) to sleeping in the bunkhouse and eating in the cook shack with the other cowboys. We also got to watch as they ran the ranch remuda into a rope corral each morning as Welch roped out each cowboy's mount for the day. (From that day on I started trying to figure out how to throw a Hoolihan. No one else I knew in Utah had even heard of such a thing, let alone had any idea how to throw one (I was persistent, though, and later in life ended up figuring it out and developing some nominal level of mastery, and taught it to my kids as part of their ranch roping repertoire)).
As a Utah farm boy I was also awe-struck and awe-inspired to watch Welch work, as he ran a good-sized herd of young Suffolk mares that had never been handled, into a big pine pole round corral, and then as my dad would tell him which ones he wanted, Welch would rope them by the front feet, and lay them out on the ground, to put halters on them.
(After that, I ended up spending a good share of my life trying to be a cowboy – until a series of horse wrecks over a fairly short time period resulted in my giving up on some of my own cowboy pride and dreams in favor of returning, both physically and philosophically, to my native family shepherding roots).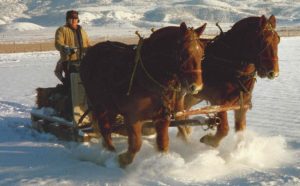 Our first actual horse trading with Jack and Irene happened in January 1981 when I was 18. In an eventful trip that I'll talk more about later, my dad traded our Suffolk stallion, Sir William of Little Deer Creek, that we called "Bill" straight across for their stud, Ironsides Dogwood, or "Woody," as he was known. As Jack and Irene both acknowledged on several occasions afterwards, including the last time I talked to them, Bill was a "good one," but we got by far the best end of that deal. Woody was undisputedly a great one – one of those once-in-a-lifetime type horses. (Almost 20 years later, in the late 90's other Suffolk horse breeders Maureen Ash, Deb Evans, who ended up owning and using Woody later in his life, solicited and collaborated with me and Jack & Irene to help write an article about Woody for the Draft Horse Journal).
As a teenager (18 at the time), Jack made a big impression on me, and became one of my life-long heroes from the very first time I met him. He was a rare combination for a rancher. He was warm and engaging, and more than willing to communicate. Both Jack and Irene had a way of putting a person – even an awkward teenager – very much at ease. They were always very complimentary and knew how to build a person up, and feel comfortable and secure, rather than insecure. At a time when longish hair was very popular, they both commented about how much they liked my short haircut. I don't know what they would have said or done if I had been a hippy or had long hair (my dad hated hippies and long hair), but I suspect they would have found something good to say.
Otherwise, one of the first things I noticed was the size and strength of Jack's hands, and the fact that he never wore gloves (I'm not sure he could have found any to fit) even in the dead of Northern Nevada winter (and apparently plenty of others have made the same observation). My own Uncle David Jenson, an old farmer/sheep rancher, often said that the only thing a person could do effectively while wearing a pair of gloves was pee his pants. And Jack seemed to fully corroborate that position. So with Jack as further inspiration, much to my own wife's eventual chagrin and irritation (because she said it made my hands so rough – which I myself wore as a badge of honor) I attempted to follow in his footsteps and avoid wearing gloves as much as possible – even when hauling hay – but occasionally made exceptions during the winter or when handling barbed wire.
After that trip in 1981, I didn't see Jack and Irene again for almost 10 years, during which my dad continued to breed, raise and train Suffolk draft horses for a time, and my parents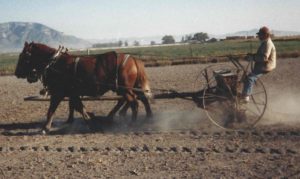 developed a very active friendship with Jack & Irene. Although my dad experienced a variety of changes in his operation, and eventually got out of the Suffolk horse breeding business, he kept one team of really nice geldings – full brothers, and spitting images of Woody, who was their sire. They were beauties, and dad thought they would last him the rest of his life. But unfortunately, in a Where-the-Red-Fern-Grows- type scenario, he ended up losing both of them in the Fall of 1990. I was in my third year of law school at the University of Utah at the time. On the rebound, my dad was hunting a new team of horses that might help mask the loss. That winter dad and I ended up traveling all over the Intermountain West looking for a replacement team. He would pick me up in SLC on Friday afternoons or very early Saturday mornings and we would go somewhere to look at draft horses. That winter we made at least 2-3 trips to Elko County looking at horses, and each time stayed with Jack and Irene. We went to the Spanish Ranch twice to look at their horses, but eventually bought a team of mares from the Sharp family in Ruby Valley.
Although my parents maintained an active friendship with Jack &Irene and visited, corresponded, and talked on the phone fairly regularly, unfortunately, I didn't make enough opportunities to visit and spend more time with them. Fortunately, however, I was always able to keep track of Jack & Irene through my parents, and it is fair to say that apparently they did the same — kept active track of me — through my parents.
For some time (at least the last year, but especially since the beginning of this year (2016)) I had been feeling a deep need and personal desire to get back to Lamoille to visit Jack & Irene. I had hoped to stop by when passing through Elko in February (2016), but it didn't work out. But fortunately, when I was back in Elko in March, my wife Heidi and I made a special point of visiting both Jack and Irene. After stopping to say hello to Irene at Highland Manor, we headed to Lamoille to see Jack, and ended up spending most of the afternoon at the ranch, having a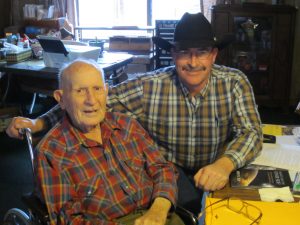 good visit. We ended up having a great time and had a hard time getting away. Heidi had been hearing about Jack & Irene ever since we had been married. After our visit with Jack, she scolded me for not taking her out a lot sooner so she could have gotten to know them better.
When we pulled up for that last visit, after telling us to come in, with a twinkle in his eye the first thing Jack asked me was if we had come in on the Lower Lamoille Road? I knew he was referring to the first trip when we traded studs in 1981, so I responded "so you remember that too?" To which he chuckled.
On that occasion, back in 1981, we had been traveling from Central Utah to Elko on Friday evening in mid-January. I remember it well because I was just getting ready to leave on my LDS mission to Norway. We were planning on getting to Jack & Irene's place that night, but probably after about 9, so we had brought bedrolls and were prepared to just roll-out and camp there that night. Unfortunately, Lower Lamoille Road was snow-covered and slick that night, and we ended up sliding off the road, and couldn't get out. Fortunately, we were prepared, so we just rolled-out our beds and camped there that night. The next morning we started hiking over to Jack & Irene's place, but since we hadn't shown up, Jack was already out scouting around to see what might have become of us, and pulled us out.
We ended up having a nice visit with Jack & Irene, but we were supposed to be going on to Twin Falls to do some more livestock trading, so weren't able to stay as long as we would have liked. Unfortunately, we were taking the better half of the team that Jack had been using to feed with that winter, and, thanks to us, he hadn't yet fed that day. My dad was really nervous about leaving Jack afoot that way, but Jack insisted. Dad said, "But how are you going to feed?" Jack said he'd use the horse that we had just left in trade, but my dad protested, "But I don't know if he's even broke to drive – we've never tried to hook him up." Jack said, "Don't worry, you guys be on your way. You've still got a long way to go. We'll get along okay" – and undoubtedly they did.
Prior to our last visit in March, as part of a long process of getting all his affairs completely in order, Jack had been organizing his paperwork and stuff. He knew we were coming and he had a whole file of stuff for me. He had stuff I had written over the years that he had saved. In fact his file was better in some ways than my own. He had stuff, and gave me copies of stuff I hadn't seen in years, and in light of some of the things that were happening at the time, it was stuff I was glad to get back. We talked about a lot of things, and a lot longer than we had planned, but unfortunately, given demands on time, etc., we couldn't talk about everything. When we left, I felt like we had plenty of unfinished business. I wanted to get back out to visit him again — soon. I wanted to take my good friend Monty Warman, so they would have a chance to meet and talk horses. And I really hoped to have a chance for my son Wyatt to meet him. And I was so sad to hear the news that he had passed.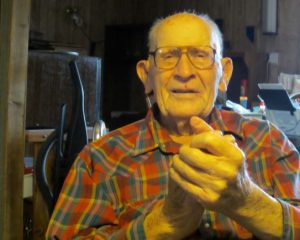 But after Jack was gone, I realized that of all the things I wanted to talk more with him about, one of the things I wished most to have had a chance to talk to him much more about was poetry, including fellow poet, Wendell Berry, and some of his writings, including one of his first novels, called "The Memory of Old Jack," which is one of my favorites, and a book I'm confident Jack would have loved. Wendell Berry is a master writer and poet. If we had ever gotten finished talking about Berry and his writings, I would like to have also discussed Ivan Doig, and his writings, including his books about Montana, including one titled This House of Sky, and another titled Dancing at the Rascal Fair.
As a long-time aspiring writer, they are the kinds of books I would like to be able to write myself. But they are also the kinds of books that only people like Jack Walther have the kind of knowledge and understanding to be able to help a person write.
Shifting gears, I want to say something more about what I have come to know about Jack Walther, and my perceptions of him. Based on the first and second-hand experiences I have described, I always had some very clear impressions of Jack, but I was fortunate enough to be able to take my dad to his funeral, which only seemed to confirm what I already knew. In addition to stories and accounts I had heard from both Jack & Irene directly, and from my parents over the years, I want to share a few others I heard that day.
Some of those include the story about how Jack got his name – Jack Halleck Walther. Although there are plenty of people – especially in that generation who may have been called Jack, many of them were actually usually named John, and Jack was a nickname. Not so with Uncle Jack – as he was known by many, besides just his legion of nieces and nephews). Apparently, by the time he had come along after 10 or so children, his parents may have felt like they had kind of run out of names, so for the longest time the whole family just called him "Baby" – Baby Walther. By the time Baby was about 3, and his little sister came along, it was apparent that couldn't continue much longer, and he needed a real name. So they asked him what he wanted to be called. According to the story, he was trying to decide whether he would rather be named after the town drunk (I can't remember his name), or Jack Demsey, the famous boxer at the time. He ultimately settled on Jack, after the boxer, along with the name Halleck, after the place where he was born and raised, and ultimately named himself: Jack Halleck Walther. It seemed so fitting.
I knew Jack had studied agriculture for some time at Utah State University, but I never heard whether he had a high school diploma himself, but according to family legend, apparently one of his brothers had been lacking a H.S. diploma, so he fudged his name and borrowed another brother's diploma to get into college, and became a chemist.
At Jack's funeral, in addition to his nieces and nephews, some of his long-time neighbors and friends told about their experiences with Uncle Jack. But really, it is impossible to talk about Jack without talking about Irene. They were a true team in a way that few married couples ever seem to achieve. Personally, I would like to know more about how they came to be together. Maybe I'll still get a chance to catch Irene at just the right moment when she can fill me in about that.
This much I have gathered over the years: Irene likewise came from true Elko County pioneer stock, and grew up just as rough and tumble as Jack did, on a ranch near Tuscarora. Just doing the math, based on their ages and the how long they had been married (61 years), I figured out that Jack had been close to 36 when they got married, and Irene would have been about 28 – which is interesting by itself.
Jack's work at the 71 Ranch was legendary. I knew that he had run the place for quite awhile, and last time we visited I asked him how long? He said he had been the boss for about 20 years, but had worked there for a long time before that, and could not remember exactly how long.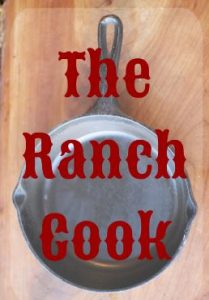 Why is it that some of my favorite stories about Jack's work at the 71 had to do with ranch cooks and cooking? Although I had never experienced it myself, I have read enough and been around enough in life to have some understanding of how important a ranch cook is for the happiness of a ranch crew, and the entire operation. From what I understand, at times both Jack's Mother, Julia, and Irene, had filled in as ranch cook at the 71. Irene liked to tell the story about the time, after a previous cook had quit, that she filled-in to cover the gap until Jack could find a new cook to hire. According to Irene, when, after several weeks of her cooking, Jack finally announced at supper that he had found a new cook to hire, one of the cowboys exclaimed "thank the Lord."
Another story had to do with the time when Jack's mother was the cook. Unlike Jack, ranch hands and cowboys are known to be temperamental at times, especially if they've been drinking, etc. For whatever reason, one particular cowboy apparently was not feeling very friendly one morning when Jack's mother cheerfully greeted him by saying "Good Morning." But he just ignored her and didn't say anything back. Always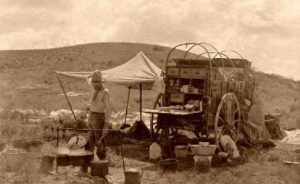 observant, Jack waited for the cowboy to leave the cook shack, so that he could talk to him alone. Jack's words were simple, direct, and went something like this: "if you want to stay around this place, when my mother says 'Good Morning,' you say Good Morning back."
According to his obituary, after working for many years at the 71 Ranch, Jack ultimately "retired" to his life's work of pure breeding red Angus cattle, Morgan saddle horses, and Suffolk Punch draft horses with Irene on their ranch in Lamoille Valley.
Exemplary stewardship is one thing Jack was renowned for. Ken Jones, a long-time neighbor, who had moved his family to the old Sorensen (his wife's parents) place just North of Lamoille in 1974, says he knew a lot about Jack before he ever met him just because he had spent a little time around the 71 and saw how it had been managed and taken care of.
Apparently when Jack and Irene first bought their place in Lamoille Valley, it didn't really amount to much. After they bought it, Irene did most of the work for the first few years while Jack continued to work at the 71. According to Ken Jones, the first year, Walthers turned out just seven head of mother cows with calves, hoping it would hold them for the summer, but it didn't even come close. By about the end of July, they were feeding again. This is a very useful measuring stick, because after working steadily to develop the grass and improve the forage, by the time Jack and Irene were done with the place it had undergone a big transformation. Although outward signs of prosperity may not have been obvious to some, under Jack & Irene's stewardship the place really bloomed in terms of productive carrying capacity. By the time they were done, the place was capable of carrying 150 head of mother cows, and whatever horses they had.
Mark Hooper (who's family bought Walthers' place) had grown-up as a neighbor, and had plenty of stories about Jack & Irene. If there is one thing that Jack & Irene thoroughly understood, it was the concept of being a neighbor. They were exceptional neighbors. Having owned a few little ranches myself over the years, I've developed this saying that there is nothing in this world better than a good neighbor and nothing worse than a bad one. And I think anyone would have been blessed to have been able to be neighbors with Jack & Irene.
According to Mark, although Jack & Irene didn't have much use for the latest electronic technology and gadgetry, they definitely knew how to adapt and embrace new technology – especially if it had anything to do with stuff they really cared about – like getting stuff done on the ranch. On that score, after being die-hard traditionalists, and working with horses for many decades, when their legs and knees finally gave out and out of physical reality ,they weren't able to continue to work with horses, they simply accepted their fate and embraced the applicable modern technology. Instead of turning to the medical profession for a surgical cure, their answer to knee replacements was four-wheelers, which allowed them to continue to get around the ranch, and do their work. When they got a new four-wheel-drive tractor, with a cab, they operated in the lap of luxury. When it got to the point that Jack couldn't get into the cab, he got a hydraulic lift to help him get into the cab.
And speaking of tractors, the new tractor was a heaven-send in a variety of ways. Once Irene fell down in the barnyard, and between the two of them, with their legs such as they were, they couldn't figure out how to get her up. So Jack went to get the tractor & loader. Some people might have risked injury or discomfort by attempting to use a chain to hoist Irene upright, but not everyone is as smart and practical as they are. So Jack just positioned the loader bucket on the ground right next to Irene, and she rolled in, then he raised the bucked, and she rolled-out, with her feet underneath her again.
Several years before Jack passed, because they knew they wouldn't last forever, Jack and Irene discussed what would happen at that point. When considering what to say in an obituary, Irene was very troubled that a five-word obituary was free, but anything over five words would cost money. She reportedly said "how in the world can you say anything about a person (especially someone like Jack) in just five words?" Then, finally she said, "I've got it figured out. I've finally got the obituary down to five words: "Jack died, tractor for sale."
Everyone who ever knew Jack talked about how steady, cheerful, positive, and unflappable he was. When other people would be long past the point of frustration and exasperation, Jack just took things completely in stride. Even though he did have his frustrations, he reacted and dealt with them differently. He would usually figure out how to find a humorous angle, and write a poem about it. Jack was famous for his sense of humor.
Being the exemplary steward of the land and resources that Jack was, Mark Hooper explained that several of Jack's perpetual frustrations included dry spots on the ranch, weeds, and varmints, especially including gophers. Although Jack seldom expressed much frustration, apparently on one occasion he did confide to his neighbor Pete Bottari that he was getting really frustrated with a particularly wily gopher that was eluding his trapping efforts. Then one day, after he had told Pete, when he pulled up on the trap, he was surprised and excited to see that he had finally been successful, and there was something in the trap. When he got down to retrieve the wily varmint, and revel in his success, however, he noticed that apparently Pete had been by to help him out, and the animal in the trap was a stuffed rat.

Mark also explained that neighborly pranks like that, and April Fools jokes were famous among the neighbor ranching families surrounding Jack & Irene's place in Lamoille.
According to Ken Jones, when he and his family first moved to the old Sorensen place on North Creek it was still a sheep outfit at that time, and for some time afterwards. He said because of that, coyotes were considered to be mortal enemies, and sheep ranchers like him had no tolerance or mercy for coyotes. With that in mind, as they returned from church one April first, they noticed and were incensed by some new signs on some of the fences around their place that said something to the effect of: "Wildlife Protection Area: Coyote Hunting Strictly Prohibited." That may have been one of their first big doses of Jack & Irene's obsession with April Fools day.
Over the years, April fools pranks back and forth included everything from honey on door knobs, and real cow pie pies, to notices at the post office about mouse problems, and the need for cat donations to help out. One of my favorites is one Lorna Jones had to whisper about because we were in the church, and she was concerned about whether it was to even appropriate to mention in a church building. She explained that she had had a friend buy a Playboy magazine for her. She had carefully taken off the cover, put it over the top of the innards of a Good Housekeeping magazine, got rid of the Playboy innards (I repeat – got rid of the innards), and gave this special edition to Jack on April Fool's day. Later, when she asked him how he liked it, Jack said it was okay, but also quite a disappointment. He had spent at least 15 minutes hunting for the centerfold, but was only able to find recipes.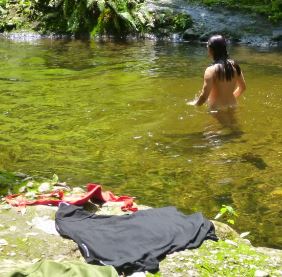 Again, Jack's sense of humor was legendary. One example that I have always enjoyed that goes hand in hand with Lorna's Playboy joke, was the time Jack and Irene were riding on the mountain and came upon a woman bathing – skinny dipping, and washing her clothes, fully naked, in a pool in the creek. Jack and Irene kind of snuck up on her, and then just sat back and watched for awhile without the woman noticing them. As the story goes, Irene soon became bored and said, "Let's go." Jack responded by saying something like, "Hold on. Be patient. This is just starting to get interesting."
But it wasn't all fun and games. Ken Jones also told about the time, not long after Joneses had moved to the Sorensen Place, that in the spring of the year their irrigation ditch had sloughed off and washed out, and they were in a major bind. Ken said he went and got Jack to come help him survey the situation and help him try to figure out what to do. Then Jack brought over his crawler, and spent at least five full days working with Ken and helping him to fix the ditch, which was no easy task, because they had to first divert the water and dry-out the ditch first. He said when it was all said and done, Jack wouldn't even think about taking anything for his time and equipment. What were neighbors for? Ken said he spent the next 40 years trying to make it up, and get even with Jack, but was never able to catch up.
On another occasion, as Jack was passing by, he stopped by to see the Joneses. It was back when they had young children, and according to Lorna, the house was in disarray. When she opened the door and saw Jack, she apologized for the condition her house was in. He surprised her by saying, something like, "you're right, it is certainly less tidy than usual." Then he handed her a big fistful of wildflowers that he had picked along the road.
Ken said that in preparation for his funeral talk, he had made a long list of positive attributes and characteristics that Jack possessed, that we would all be better off if we could possess ourselves. He said that as he got thinking about the list, if you were talking about some of those characteristics with some people you might have to fudge just a little bit to make it sound better than it really was, but not with Jack. He said there was no need to fudge anything. And that is exactly how I always perceived Jack. There was no faking. No pretenses. Nothing phony. No putting on airs, or keeping up appearances. There was no keeping up with the Joneses (no pun intended) — except when it came to April Fools pranks. With Jack, he was what he was; people and things were what they were; he accepted everything as it was, and rarely complained.
There's an old saying about being a jack of all trades but master of none that simply didn't apply to Jack. Based on my observations and plenty of accounts of others, he was certainly a master of several things, including rancher, cowman, poet, and land & resource steward. And if anything, he was a master horseman and teamster. If Jack was going to do something, he was going to do it well. He was going to do it right – according to his experienced and well-seasoned view of what that meant.
According to Ken's list, if Jack was anything, he was steady and cheerful — perpetually positive, unflappable, never discouraged. According to Ken, he had never seen Jack down in the mouth. Never frustrated or stressed out. Ken said that if there is anything that can stress he (Ken) himself out about it is drought. But he said Jack just took drought, like everything else, in stride. Like Mark Hooper said, even with something as debilitating has having his legs and knees completely shot and worn out, and Jack was cheerfully shuffling back and forth from wheelchair to crutches to four-wheeler. He didn't let it stop him, or get him down. He simply accepted it and rolled with it.
According to Ken (and my own experience and perceptions), Jack was almost completely non-judgmental. He simply accepted people, and situations, circumstances, and things, as they are, and he always did it with a sense of humor and twinkle in his eye. No matter how bad something might be, it could always serve as material for another poem.
By the time Ken got done describing Jack and his attributes I was fully ready to believe that Jack was indeed almost perfect. But even Ken had to acknowledge that Jack was in fact human, and hadn't completely mastered everything. Among very few other things, Ken explained that Jack was by no means a master gardener – and he didn't pretend to be. As one of the youngest children in the family, he had been assigned to hoe weeds in the family garden, and had gotten his fill of both weeds and gardening at a very young age. And according to Ken, Jack had never mastered feeding a wood-burning stove either. He had likewise gotten his fill of firewood and wood-burning stoves growing up, and considered Propane to be a far preferable source of heating fuel.
And at this point, I'm going to add something else, of my own, that Jack never seemed to have completely mastered – Fashion. As far as I could tell, Jack didn't give a hoot in Hell about the latest fashion – including cowboy or buckaroo fashion trends. As far as I could tell, he had little, if any, interest in appearances. He was all about substance, and whatever could get the job done best. While some people seem to be all form and no substance, Jack was just the opposite: All substance. Something I've noticed and joked about at times is the extent to which most cowboys, and especially buckaroos, seem to be highly motivated by something I call "cowboy pride," it didn't seem to be anything Jack was the slightest bit concerned about. Long ago I concluded that wherever it is that cowboys stand in line to be issued their various doses of cowboy pride that causes them to do some of the things they do, I don't think Jack ever bothered to stand in that line.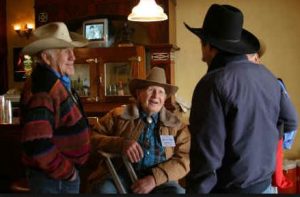 This is something I have informally studied, been interested in, and paid attention to for years. Over the course of my life, in the circles I've turned in I've gotten to know quite a lot of people in the Western ranching industry. I have gotten to know a lot of Cowmen and cowboys. Cowpunchers and Buckaroos. Among other things, I've known plenty of guys with big hats, but no cows. And I've fallen into all of that at times myself – maybe all the time. But when it comes to cowboy pride and such things one of the things that has always been a reality check for me, and has helped to keep me somewhat grounded in reality is the fact that I actually come from a sheep ranching family and background. So that has given me lots of cause to chuckle over the years, and to share my chuckles about such things with Jack.
On that score, I remember one time, back in the midst of the big Mary Bulloch Stand-off with the BLM back in 2000, I was headed to Salina, Utah to the auction, with some other ranchers and cowboys. At the time my kids had a few sheep to raise 4-H show lambs. We needed to haul a ram back to my dad, and this seemed like a good opportunity to get the ram to Salina, which was most of the way home, without making a special trip. So I loaded the ram in the open pipe, gooseneck stock trailer we were pulling. And I have always had to chuckle about a couple of the young Arizona cowpunchers who were going with us, who wouldn't be caught dead riding in the outfit with a sheep in it. One time I chuckled with Jack about that, and told him he ought to write a poem about it. He told me I was the one who should write the poem, but I never got it done.
Because of my acquaintance with Jack, and the fact that he was one of my life-long measuring sticks, I was always conflicted when it came to sizing-up other cowboys and ranchers, etc., — because I knew beyond a shadow of doubt that Jack Walther was the real McCoy, regardless of how he dressed.
Later in life I have acquired another good friend, Monty Warman, of roughly the same generation who has helped me put a lot of this in better perspective. Like Jack, Monty is a horseman. But he was originally from New England – and then came West, after retirement to chase the elusive cowboy dream. When he got to the West, and over the years, he met so many people. Lots of guys with big hats, tall boots, fancy spurs, and colorful stories. Oh, the stories. They say if it's fact – if it's true – it's not bragging. But how would you know if all those tales, and all the bragging about horsemanship, wrecks, spills, big bucks, runaways, and everything in between, were true? Monty says he developed a very simple standard. When someone would start to talk like they had done it all and knew everything, he would simply say "sounds good, show me your horse (or your cows, or your buck, or place, etc.). In other words, just shut up; don't tell me, show me, and let's look at something that will prove whether you're just talking the talk, or if you can walk the walk – and I'll draw my own conclusions. Based on a lifetime of real experience, Jack definitely had the stories to go with it, and he left no doubt when it came time to walk the walk.
My acquaintance with Jack has created all kinds of conflicts in my own life – and mostly in my own head. The idea that you have to dress the part to be a real cowboy. Or, that you have to be a Mormon, or even "just" a regular church-going Christian, to ever pretend to call yourself a "good" person. I don't know that Jack would have ever called, or considered himself to be a "good" person, but to be completely honest, I'm not exactly sure just what going to church would have done for Jack. Someone (possibly including Christ) said something to the effect that "Churches should be hospitals for sinners, rather than museums for saints." Plus, if Jack had cared no more about fashion in going to church than he had cared any other time, it might have really messed with some peoples' minds.
In my own case, I was raised in a culture that is all about appearances, social status, and keeping up with the Joneses. Education, and affluence were viewed to be sacrosanct. Financial affluence was to be worshipped. And if you weren't actually financially affluent, you were supposed to at least pretend, and make it look like you were. But thanks to Jack and others, I have long been conflicted about all that too.
From some angles, it would have appeared that Jack and Irene barely squeaked by, poor as paupers. But I had been around enough frugal operators in my life to know that didn't always mean anything. I was always under the impression that they actually had all the financial resources they needed (or wanted), and not only lived within their means, but consciously and deliberately chose to live well beneath their means. What a concept in the culture and society we live in – where so many things are judged almost exclusively by outward signs of affluence.
But money certainly isn't everything. As I am often reminded by my friend, Neuel Chlarson, who is the cowboss for Ensign Pahvant Ranches, as he advises and admonishes his children and others about what to do with their lives. When it comes to money, careers, and a whole bunch of other things, the question he always asks is: "Would you rather be part of the 3% of producers in this country who feed this nation, or part of the other 97% who mooch off of them?" My acquaintance with people like Jack & Irene have always influenced me to want, at some level, to be a bigger part of the 3% than the 97% on the other side. Although I can't hold a candle to Jack & Irene in terms of stewardship, etc., I can't seem to get away from that deep-seated desire to do something fundamentally constructive and productive, rather than consumptive. They have always inspired me to want to be more of a net producer than a net consumer.
I'm going to wrap-up this perspective on Jack Walther by saying this: At one point, not that many years ago, I wrote an obituary about a dog our family got as a puppy and had for over 15 years while raising our children. That's 105 years old in dog years. She was definitely part of the family, and always had been. I hate to compare Jack, in any way, to a dog, but in the obituary I wrote, I closed with a description of a scene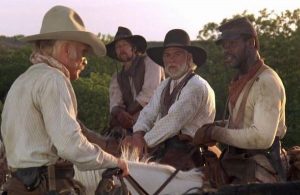 from the mini-series Lonesome Dove. The scene involves the death of the Black scout Deetz, who likewise cared little about his attire, but had been a loyal companion of Captains Call and MacRae in their various pursuits for many years. When Deetz is buried, Gus comments to young Newt Dobbs that he had seen his (Newt's) father, Woodrow (Captain Call) bury many men, but had never seen him carve a grave marker for one before. Gus tells Newt, "let's see what it says." I only mention it because along with all the other things that could be said or carved about Uncle Jack Walther, I think what Captain Woodrow Call carved for Deetz would have also been very fitting. It said: "Never shirked a task. Cheerful in all weather. Splendid behavor."
If I had written nothing else, Capt. Call's words would have very accurately described Jack Halleck Walther. Wishing you God's speed brother, and thick, tall grass, fat cows, and good teams in the great beyond.