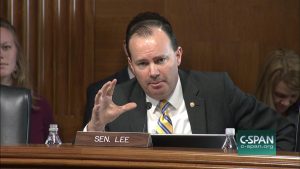 First published on ksl.com.
SALT LAKE CITY — Sen. Mike Lee, R-Utah, wants to rein in the law enforcement authority of the Bureau of Land Management and U.S. Forest Service and is crafting legislation he says will either restrict or abolish their authority.
Lee said Monday he aims to hem in powers he says were never envisioned under the Federal Land Management Policy Act of 1976.
"Our federal land management agencies have drifted far from their intended purposes," he said. "The BLM has expanded its operations far from public lands."
Lee, chairman of the U.S. Senate Subcommittee on Public Lands, Forests and Mining, convened a hearing earlier this month on the issue, querying top agency officials about the role their law enforcement plays on federal lands, and if that could be fulfilled by local sheriff deputies.
"It is incumbent on this subcommittee to ask whether combining resource management and criminal law enforcement has resulted in a profound disservice to both," Lee said.
The senator added federal land agencies exercise police powers on private land — something the founders "exclusively" reserved to the states.
"We need to get back to managing federal lands as opposed to terrorizing the communities that surround them," he said Monday.
Lee and others are optimistic the Trump administration is supportive of the West's concerns, with massive restructuring underway in the BLM and a possible relocation of its headquarters to states that include Utah and Colorado.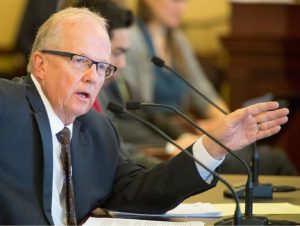 State Rep. Mike Noel, R-Kanab, in an update to his colleagues on the Natural Resources, Agriculture and Environment Interim Committee last week, described a whistleblower's memo from a lead investigator who assessed how federal officers handled the 2014 armed standoff against Nevada rancher Cliven Bundy.
"I routinely observed, and the investigation revealed a widespread pattern of misconduct, as well as likely policy, ethical and legal violations among senior and supervisory staff at the BLM's Office of Law Enforcement and Security."
Larry Wooten wrote that misconduct by now-fired Special Agent in Charge Dan Love and other supervisors caused "considerable disruption in our workplace, was discriminatory, harassing and showed clear prejudice against the defendants, their supporters and Mormons."
Wooten's memo went on to describe how he heard repeatedly that Love had a "Kill Book," as a trophy and "in essence bragged about getting three individuals in Utah to commit suicide (see Operation Cerberus Action out of Blanding, Utah and the death of Dr. (James) Redd)."
Lee points to the 2009 Blanding raid involving Redd — who killed himself — as an example of BLM law enforcement gone amok, with multiple pre-dawn raids served at gunpoint.
"What happened in Blanding is a symptom of the underlying problem," he said.
The so-called "Kill Book," he added, is "abhorrent. This is the kind of thing that could have or would have been addressed more quickly with a state or local law enforcement agency."
Lee said local law enforcement can carry out the same functions of BLM and the Forest Service and are more accountable to local residents.
"I don't think it is an easy conclusion that these (federal lands law enforcement) agencies are worth having," he said.
Local conservation organizations have complained about the lack of federal law enforcement resources to protect vital and irreplaceable cultural resources in remote regions of the state.
"Abolishing or restricting federal law enforcement officers is a thinly veiled step toward seizing public lands for the state," said Mathew Gross, a spokesman for the Southern Utah Wilderness Alliance.
"That's what the Utah delegation wants, but it's not what the American people want. The first responders who patrol and protect our federal lands have been set up to fail with understaffing and a lack of funding. They should be receiving more support, not less, from Congress."