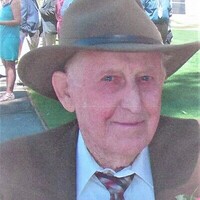 Remembering Freddie
Reflections on the life and surroundings of a dedicated sheep rancher
By Jim Fousekis
Almost 30 years ago my wife Susan and I bought a 610-acre ranch property on the Eastern Sierra of California, near Bridgeport (and its beautiful valley), nestled under the Sierra Nevada with Green Lake and 12,378-foot Dunderberg Peak to the South. I was a nearly retired lawyer who loved fly fishing, and Susan, a former Sierra Club hiker who knew all the mountains around us. The spot was idyllic. We built two log houses, called our ranch the FFF Ranch, Fousekis Fly Fishing Ranch, and along the way had the great pleasure of meeting our neighboring property owner to the west Fred Fulstone of the Fulstone clan of Smith Valley Nev.
Freddie and his family, operating as the FIM Corporation, were reportedly the largest sheep ranchers in Nevada; his brother Richard, now deceased, was a large cattle rancher, his cattle operations now run by his son and Fred's nephew Steven Fulstone. Freddie died on April 2, 2020, having lived 99 good years as a dedicated sheep rancher and ranchers' advocate. His life and surroundings deserve our attention; he had ranching in his blood and personified the best in ranching and a life worth living.
Much of the property in the Bridgeport Valley and its surroundings is owned by Smith Valley ranchers, almost all cattle other than Freddie's sheep. The ranchers run their cattle in Smith Valley in the winter and move them south to Bridgeport in the summer. Shortly after purchasing our property, we leased our grazing land, 600 acres, including a large irrigated meadow, to Freddie and FIM. It was a natural; Freddie's Bridgeport property to our northwest could connect to our meadow by way of a wooden bridge over our Summers Creek which sheep could cross. Freddie explained that sheep did not like their hooves wet so they would not come onto our property until irrigation season was over, usually early September.
Government Steps In
Freddie had developed his large sheep operation with few government regulations, but all that was changing. Our FFF water and Freddie's has been regulated since the late 1930s under the Walker River Federal Court Decree, entered after 12 years of careful litigation, adjudicating Walker River Basin water rights. Under the Decree, a Federal Water Master controls the use of Walker River water, usually allowing an irrigation season from March 15 to August 15. Some of our FFF Ranch water rights date back to the 1860s, having been adjudicated in favor of the Sarios, a Basque family. We purchased the FFF from the Sarios, whose predecessor Joe Sario had participated in the Walker River Decree litigation.
Fred's predecessor had also participated in the litigation, achieving more limited water rights. However, in the early 1990s challenges were made to the Decree by certain Walker Lake interests where the Walker River flowed, including the Walker River Paiute Tribe represented by the United States. Our government was now our adversary, attempting to upset what has been a stable source of farm and irrigation water for well over 100 years, and obtain more water. Neither Freddie nor I, nor all the other local ranchers were happy. As Freddie said many times, "They are trying to take our water," and water is the lifeblood of ranching. Both FIM and our family have been thrown into a large water rights litigation which continues today, almost 30 years after the initial filing.
However, the interaction with government that upset Fred the most were the restraints put on his grazing contracts with the federal government. Freddie was running thousands of sheep. In order to feed those animals, he needed thousands of grazing acres, and had entered into lease agreements with the Bureau of Land Management to run his sheep on land leased from BLM. The Eastern Sierra to the South of Bridgeport is the habitat of Big Horn sheep, and arguments were made to the BLM that domestic sheep carried diseases which could be transferred to the Big Horns, and therefore no domestic sheep should graze on BLM lands anywhere near the wild sheep. Fred was very unhappy, and eventually FIM filed suit against the Secretary of interior in the Federal Court in Sacramento challenging these restraints. He did not think the science supported the claim that his domestic sheep could contaminate Big Horns. I am not sure of the details, but I don't think Freddie won this one, and the suit eventually went away. But like many who read these pages will appreciate, changes to the farming and ranching way of life, as it had been, were threatening, and the threats were real.
There were more. A petition was filed with the U.S. Fish & Wildlife Service (FWS) to designate the bi-state sage grouse as an endangered species. Freddie, like me, worried what the impact would be on grazing on his adjacent property and ours. With Freddie and FIM as our lessee, our property was virtually a wilderness preserve, with sheep grazing only several months a year. Neither FIM nor the FFF Ranch have conservation easements, and our family intends to manage our property with the fullest conservation protections in mind. How could we do otherwise?
My wife had been a lifetime member of the Sierra Club and worked there for David Brower and hiked all the mountains around us; I fished in our rivers and hiked in our mountains since I was a Boy Scout. We thereafter fully cooperated when a bi-State group of governors took steps to protect the sage grouse, including tabbing all our FFF fences to prevent the grouse from flying into them. Just before Freddie's death, and after years of dispute and litigation, the FWS denied endangered species protection to the sage grouse. I'm sure Freddie would have agreed with me when I state the grouse will not be in danger on FFF lands.
In addition to the controls and reporting to the Federal Water Master, Freddie and FIM have had to deal with our local California Water District, Lahontan Regional Water Quality Control Board, and file reports and information there. The State of California State Water Resources Board has also been involved with our property; about 10 years ago a complaint was filed with the Control Board claiming that water from our creek, Summers Creek, was being wrongfully diverted above our property by FIM from flow into Twin Lakes to flow into our creek, Summers Creek. Fred called in the Federal Water Master who confirmed that the diversion was proper and had been in place for many, many years; the complaint was dismissed. Occasionally I saw U.S. Department of Agriculture personnel counting sheep on our property, presumably to determine whether there was any overgrazing. Forest Service trucks and personnel are all around. Government regulation is everywhere and in full view.
Sheep Ranching: A Challenging Business
Farming and ranching are hard work, sheep ranching particularly so. Some city folks may have a vision of farm millionaires, or billionaires, living in Jackson Hole, Sun Valley, or Montana, or corporate interests farming in the westlands of California. Freddie is what ranching is all about; down to earth hard work. Sheep ranching involves placing herders, formerly Basques but now mostly Peruvian Incas, in remote locations living by themselves in a small tent or trailer with a pod of sheep nearby, maybe 800 or so, continuously grazing. A foreman or manager periodically comes by. The herder's companions are their dogs, mostly border collies, or a donkey. These intelligent dogs, by instinct, control the less intelligent sheep. But it is not all peace and harmony on the meadow. Mountain lions, bears and coyotes lurk nearby. A U.S. ag department agent once told me that he had seen the vicious damage done to a sheep pod by a crazed mountain lion nearby, 60 or more sheep dead, blood everywhere spiking the cougar on. Be careful, even when jogging nearby.
Here again with the herders, government is present, increasing the government regulation of the labor conditions of the herders, who send their salaries home to their distant families. Fred's daughter Marianne runs the office side of FIM dealing with the increasingly complex employment issues. Her son Kristofor runs the FIM field operations dealing with the logistics of thousands of sheep in many locations. FIM needs many thousands of acres either owned or leased for grazing, and transportation to move the sheep from location to location, until the sheep are sheared for wool, or lambs and mutton sold for meat. And looming off our shores is New Zealand with almost eight times as many sheep as the United States and Australia, with all that open land, and almost three times as many sheep. Quite a competitive challenge, one you will see when you order lamb at your meat market and find domestic sheep significantly more expensive. I am loyal to Freddie and our domestic ranchers, and it's always domestic lamb for me! Finally, Freddie's herders follow the old Native American admonition: "Leave your campsite with no sign you were there." After the sheep are gone when grazing season is over, there is no sign they were there. That's Freddie's way.
Freddie's Smith Valley
California Route 182, turning into Nevada State Route 338, leads me from the small town of Bridgeport, along the East Walker River into Nevada passing by the Sweetwater Mountains and beautiful Sweetwater Ranch, eventually settling into the Smith Valley of Nevada with its lush green farms, cows and horses. I am to meet Freddie at his ranch, where he invites me in for lunch, obviously lamb. For a rancher who grazes sheep on thousands of acres, his ranch house is modest, nothing fancy, farm equipment all around and many dogs. His usual affable self with a twinkle in his eye and household help now assisting him, he is happy to see me. We understand each other. He has helped me appreciate the outdoors and the ranching way of life. I once met his sister in San Francisco, and quickly concluded that Freddie would not be happy there. He is a rancher, a sheep rancher, and it is in his blood. He is a deacon among Smith Valley ranchers because of his devotion to ranchers and their interests and to the quiet Smith Valley where he has lived his long life. He is adored by his family and his employees, as I can easily tell from my time at his ranch house. It is clear his 99 years were worthwhile; Freddie is someone we should not forget.
***
Jim Fousekis is a native San Franciscan and a retired attorney who practiced law in San Francisco for more than 40 years. His most precious time is now spent in the Eastern Sierra.