Note:  We were a little behind the curve here, as a result of being late to learn about what happened to Travis Williams, and are therefore late passing along the word, but we're trying to make-up for lost time.
According to Melodi Molt, Burns, Oregon, fellow Harney County Rancher Travis Williams (and original charter member of the Harney County Committee of Safety that was actively involved in trying to help mediate the Oregon Standoff at the Malheur Wildlife Refuge) was involved in a bad pickup/horse/trailer accident a couple months ago.  According to Melodi, the horse and dog are fine, but Travis, the truck and trailer didn't fare so well.  Travis ended up in a coma for about six weeks, and is now in a long-term care facility, but he is now able to speak a few words and is feeding himself.  Doctors say it may be months, if not years, before he is able to get out of the hospital.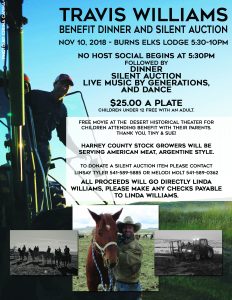 A quick sneak peak of some items that have been donated to the Travis Williams Benefit Dinner and Silent Auction 11/10
Western boxes donated by Marty Gould
3 guns donated by Loui and Keaton Molt.
Grass fed beef to be auctioned off in 1/4s  donated by Jerry Miller.
2 U of O football tickets Donated by Patsy Wilber.
2 custom tumblers donated by Kati Batie designs.
Furniture or decor donated by Muffy McBride.
6.9 cubic ft. Freezer filled with Harney County Beef. Freezer donated by January Kolar. Beef donated by: Fred, Mary and Shirley Otley.
Homemade coat/hat rack that is absolutely beautiful, donated by Maggie Foreman
Two Australian Shepherd purebred puppies, donated by Heather Ketcher.
Men's Pendleton Coat, donated by Elaine Colson.
Home decor signs donated by Cindy Sitz.
Basket donated all the way from South Dakota by Carrie Statum
Beautiful bit. Donor would like to remain anonymous.
$50.00 Pine Room Gift Certificate donated by Ken and Polly Post
1 and 1/4 Cord of firewood. Pine and will be split. Will deliver within 50 miles of Burns. Donated by Brian Heany.
1 cord of firewood cut donated by Jeff Dixson and Butch Eaton.
Homemade apple cider and apple syrup. Donated by Kim Rollins.
Chaps donated by Joel Nasewytewa (will get picture up tomorrow).
$50.00 Gift Certificate from HC Sporting Goods. Donated by HC Sporting Goods
$100.00 Gift Certificate for High Desert Diesel.
$140.00 Gift Certificate for Reflections Auto Detail.
4 Gift certificates to Grandmas Truck N' Kitchen locates in Seneca, Oregon.
1 horse therapy apt. Value 125.00 donated by Tess Casey
1 day rental of our Rawhide portable processor value 500.00 donated by Clint and Jennifer Casey
Brand new TV and movie packet with all the munchies popcorn candy Etc donated by Jan and Micheal Kolar.
Scentsy Warmer Donated by Mollie Larson.
A 12 wk old Male dog estimated value and breed to come soon. Donated by Lowell Gould and Randall Skinner.
Keaton Molt, certified pilot with Hi- Desert Aviation, Inc.  is giving to the highest bidder a one hour flght in an Veronca Sedan.  Come bid on this flight.
All natural wreath donated by Noel Houck
$500.00 worth of hay stacking Donated by Shane and Crystal Otley.
A weekend at Depot Bay, Worldmark Resort, valued at $750, sleeps 8. Donated by Keith & Delores Scott.
2 dozen (at least maybe more) DARmales tamales. Donated by Diane Ashton Rollins.
2 custom made tumblers donated by Katie Stevens.