NOTE:  In the West, there is an old saying about "good fences make good neighbors."  At RANGEfire! we acknowledge our virtual neighbors on this virtual landscape.  When what is being said is clearly on the "other side of the fence,"  we will try to acknowledge that, to make it clear that we are simply passing along what others are saying about the issues and subject matter that we talking about, even when it does not reflect our views, and may in fact be the polar opposite — which is why it is from the other side of the fence
OTHER SIDE OF THE FENCE — What Others Are Saying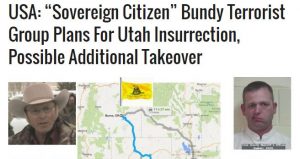 A group calling itself R.E.A.L. — Responsible for Equality And Liberty — says it is continuing to report on the ongoing lawless activities of the "Sovereign Citizen" based terrorist group, led by Bundy brothers Ammon Bundy and Ryan Bundy.  R.E.A.L. has reported on the armed terrorist takeover of the Bundy-led group of U.S. Federal Government facilities and Malheur wildlife refuge outside of Burns, Oregon, and the growing numbers of "Sovereign Citizen" terrorist extremists that have arrived in convoys to assist and protect the core Bundy terror group.  The FBI has stated: "the FBI considers sovereign-citizen extremists as comprising a domestic terrorist movement."  Law enforcement has issued videos to police on how to deal with such dangerous domestic terrorists, who do not respect law and order.   The Department of Homeland Security reported in a February 2015 reportthat it viewed the "Sovereign Citizen" or what it also calls "Sovereign Citizen Extremist" (SCE) domestic terrorists as a dangerous national threat.  The Homeland Security report, produced in coordination with the FBI, counts 24 violent sovereign citizen-related attacks across the U.S. since 2010.
R.E.A.L. had been also following the ability of the "Sovereign Citizen" terrorist extremists to travel outside of the Oregon U.S. Government (USG) facilities near Burns, and the lawless environment which has allowed these terrorists to travel to other cities, even other states, without an arrest warrant being served.  R.E.A.L. has learned that the Bundy-led "Sovereign Citizen" terrorist group has now been traveling to spread further insurrection against Federal Government law and order in Utah – 700 miles away from the site of their current terrorist takeover of USG facilities.   The new plots appear to incldue meetings reported between "Sovereign Citizen" terrorist LaVoy Finicum and a Utah representative of the "American Lands Council."
R.E.A.L. has learned this included terrorist travel by LaVoy Finicum and Ryan Bundy from their terror siege in Burns, Oregon on an 11 hour, 700 mile trip (each way) to meetings in Cedar City, Utah.   There was no effort by law enforcement to serve any arrest warrant or to stop these armed men who have been holding USG buildings and facilities hostage during this 24+ hour, 1,400 mile travel.  A local writer in Utah, Chris Zinda, had his photograph taken with "Sovereign Citizen" terrorist LaVoy Finicum to provide proof that Finicum had gone all the way to Cedar City, Utah, without being stopped by law enforcement.
We have now learned that LaVoy Fincium, was accompanied by Ryan Bundy, in the trip to Utah.  Ryan Bundy is the terrorist who first threatened to "kill" those who tried to stop their takeover of Oregon USG building and facilities.  According to research in a report by Raw Story, LaVoy Finicum described his Utah trip as meeting with "county officials," and he "claimed they met with county officials eager to engage in a similar standoff with federal authorities over public land ownership."  Chris Zinda also reported that terrorist LaVoy Finicum spoke in Cedar City, Utah at a "local afternoon conservative talk radio show."
In Utah, Chris Zinda alerted the FBI and law enforcement to the presence of the armed terrorist involved in the Oregon USG facilities armed takeover.  Law enforcement was not interested.   As Chris Zinda reports, "I stopped along the road on the way to school and called the FBI in Salt Lake. They took my information and number (naturally) and left it at that. I haven't heard from them since.  Listening to LaVoy on the radio while again driving made my head spin. 'What the hell? How can this be allowed?' When I got to school, 'LaVoy Finicum is in Cedar City at the radio station!' I said to the 911 fella on the other end who responded, 'So?' Softening a bit after my explaining why so, he said, 'There is no arrest warrant and we can't do anything.' "
On his Twitter account, (since our mainstream media no longer reports on terrorism in America), Chris Zinda reports that "Iron County, Utah Commissioner David Miller says he & ranchers met Finicum on 1/13 recruitment trip to Cedar City."   Terrorist LaVoy Finicum told the Oregon Public Broadcasting (OPB) that "He said he was meeting with people in Utah who also want more control over the federal lands in their county. "  Finicum also told OPB that "he had no contact with law enforcement during the road trip, which he made with one of the other occupiers, who he also declined to name."
Terrorist LaVoy Finicum stated on YouTube (starting at 7:10), "Yesterday, Ryan Bundy and myself left and slipped out of here, a few days ago, and went to another state, another county that is very strongly oppressed, not as bad as here, but  is ready to stand up and ask the Federal Government to leave their county.  So we were there to support and encourage that to happen."
Iron County, Utah Commission David Miller is part of the American Land Council (ALC) and appears in their videos promoting their cause.  David Miller has also been involved in zoning of lands in Iron County to influence ownership rights.  The ALC group is led by Ken Ivory, with the goal to transfer public lands away from their rightful federal government ownership.
"Sovereign Citizen" Terrorist Ryan Bundy lives in Cedar City, Utah, and has previously been arrested by Iron County police.  Bundy had previously been arrested for a nuisance charge stemming from 2013 activities, and court activities on this have continued to be delayed, as of September 2015.  In January 2015, Ryan Bundy was also served an arrest warrant for resisting arrest.
In May 2014, Reuters reported that "Sovereign Citizen" terrorist Ryan Bundy led hundreds of extremists to directly challenge federal control of protected land in Utah, driving dozens of all-terrain vehicles into protected land in Recapture Canyon in Utah that is home to Native American artifacts and where such journeys are banned.
The current Finicum video indicates that the "Sovereign Citizen" terrorist group is planning further activities to reject the legal rights and authority of the U.S. Federal Government in Utah, likely in Iron County, and very possibly another takeover of USG buildings and facilities in Utah, similar to their current terrorist occupation of USG facilities in Oregon.
In the Utah Independent, Chris Zinda also reports that: "Rancher LaVoy Finicum and militia organizer Cope Reynolds were recently recruiting support among southern Utah ranchers to stop paying their grazing fees and to create a local militia so that national militias can come and protect them from the consequences of their actions. Finicum and Reynolds were with Cliven Bundy at the 'standoff' in April 2014, have been empowered, and appear to be attempting to capitalize on the momentum.  A Youtube video was posted by Finicum on Nov. 20, 2015 in which he says he had 'been asked to speak at a meeting with some southcentral Utah ranchers.' In the nearly 72 minute video, you can hear both Finicum and Reynolds plead their case to Utah ranchers that now is the time to stand up to the federal government."
Chris Zinda also reported that "Cope Reynolds is a gun store owner from Show Low, Ariz. who is best known for his not selling weapons to anyone who supported President Obama in 2012, brags about not having or wanting liberal friends, and since has been a loud voice for the Oath Keepers, III Percent United Patriots, and the militia movement.  Reynolds rubs shoulders with the controversial Sheriff Richard Mack of the Constitutional Sheriffs and Peace Officers Association and, like Finicum and Bundy, believes the federal government has no legal authority but that that power rests with the local sheriff. Mack's involvement in the Bundy standoff sparked controversy among the militia who were at the event, as he wanted to use women and children in the effort while others wanted to spark a revolution."
The Anti-Government III Percent extremists and Oath Keepers have also been part of the Oregon extremist takeover activities, with convoys of armed Anti-Government extremists supporting the "Sovereign Citizen" terrorist group, roaming Eastern Oregon streets at will, without any consequences.
The "Sovereign Citizen Extremists" (SCE) seem to be actively "crowdsourcing" terrorism in the same way that ISIS has been doing, and now seeks to hold terrorist control of physical land, just like ISIS has been doing.  Such "crowdsource" tactics defy conventional counterterrorism defense practices of following well-structured and known terrorist cells, and seek recruitment of previously unknown actors to join the terrorist "movement."  Further, the more success terrorist have in such "crowdsourcing," the more effective such "crowdsource" recruitment efforts can be in inspiring disaffected individuals who might not previously known or considered supporting the terrorist group, and creating a false appearance of "legitimacy" to their cause.
In the 21st century, and especially given the vast and sweeping social media tools for reaching the public in 2016, relying on counterterrorism tactics from the 1990s as the primary solution for stopping "crowdsourced" terrorist activity would be in denial of the reality of our modern times and challenges.
USA: "Sovereign Citizen" Bundy Terrorist Group Plans for Utah Insurrection, Possible Additional Takeover