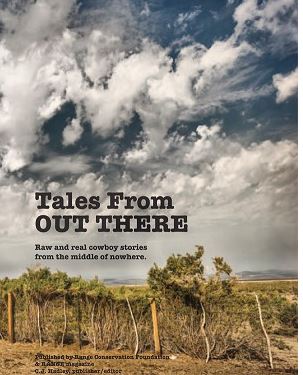 The Will Rogers Medallion Awards honored publisher C.J. Hadley and RANGE magazine with gold in 2020, but due to COVID restrictions, the awards event was delayed until 6, 2021. RANGE publications have an impressive history of wins at the WRMA awards. Winning entries for 2020 and prior years follow:
"Tales from Out There–Raw and real stories from the middle of nowhere" won gold in the 2020 Western Photographic Essays category.
RANGE magazine has won WRMA First Place awards for every book since "Brushstrokes & Balladeers: Painters and Poets of the American West" published in 2017.
RANGE magazine won gold the first year selections were entered in the WRMA competition, beginning in 2014 for Cowboy Poetry. Ensuing honors were given to "The M Bar" for Memoir in 2015, "Reflections of the West" for Cowboy Poetry in 2016, "Cowboys & Critters," for photographic essays in 2017, for "The Good, the Bad, and the Bovine" for photographic essays in 2018.
RANGE contributor Carolyn Dufurrena won 1st place gold medal for best Cowboy Poetry book for "Quiet Except for the Wind" at the WRMA in 2018.
In 2019 "The Magnificent American West" won joint 1st place for Photographic Essays in 2019.
In 2014 the Cowboy Hall of Fame in Oklahoma City gave RANGE magazine the Wrangler Award for Best Poetry book of the Year for "Brushstrokes & Balladeers." With the honor, publisher C.J. Hadley was given a replica of the Charlie Russell bronze, "The Cowboy."
See all WRMA 2020 winners here
C.J. Hadley has been honored by WRMA and many other organizations that have recognized the important, timeless and beautiful books published by RANGE. The associations and friendships formed at such events are lasting, and there is always much fun to be had! While in Fort Worth, C.J. visited the John Wayne Museum at the Stockyards, and paid tribute to this American icon.