From an August 20, 2020 email
To all Rural Americans from POINT BARROW, Alaska to CAPE SABLE, Florida & from EASTPORT, Maine to THE LOWER OTAY RESERVOIR, California

This is AN Emergency Alert about your future and the future of your children and their children's children.

There are less than 70 days left before the residents of Colorado will vote on a Ballot Initiative to introduce and protect wolves in the State of Colorado.  For the first time, wolves are not being forced into a State by federal fiat, but by a majority vote of the residents. The Initiative will prohibit any controls or management of wolves, other than "protection".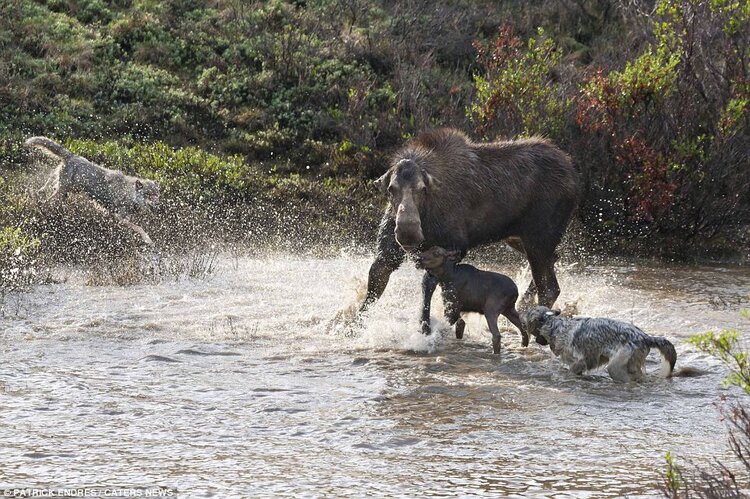 The Ballot Initiative is funded by millions of dollars from out-of-state multi-million-dollar organizations and individuals. "Volunteers" are a strange mix of urban radicals and groups with no common identity.  Does this sound familiar?  The voting blocs are the same ones we see today in all the pre-election urban unrest in the streets of the United States every night on the news on the best cable news on the TV.  You have the urban radicals and urban social justice environmentalists versus the rural people and law and order supporters that they blame for everything.
Find out more about Stop The Wolf PAC by clicking here
The rural Coloradans have organized and produced a website in their David v. Goliath battle.  You can see it at [ www.stopthewolfpac.com ]( http://www.stopthewolfpac.com )

They are almost out of money and they need whatever you might be able to donate as soon as you can.  Consider sending whatever you can to:  [ https://www.stopthewolfpac.com/donate ]( https://www.stopthewolfpac.com/donate ) 
If you prefer not to donate via Internet, you can send a check to:
Stop The Wolf PAC
P.O. Box 630552
Littleton, CO 80163
WHY should every rural American in the continental States send money to help win this fight?

Two reasons:

1.)        If any group in or out of state, rich or poor can introduce a ballot initiative that dramatically affects rural precincts and make it an issue for the urban majority to either be bamboozled about or see some sort of advantage for themselves in, the urban majority will come to think of rural people and their communities, not as fellow Americans, but more like urban Chinese think of and see as Uighurs or inferior people with less or no rights.
Consider doing the same thing with –
Gun possession or ammo storage or caliber/style prohibitions.
Dog ownership (numbers, uses, requirements, training, etc.
Vehicle types or fuel availability.
Construction bans or permitting requirements.
Hunting/fishing restrictions and bans.
More predator protections and domestic animal restrictions.
This List could go on but you get the point!
2.)        Rural people know the value of trained and available law enforcement officers, especially wildlife officers.
This Wolf Ballot Initiative forced by urban voters with no skin in the game will reduce and eliminate the state wildlife law enforcement presence as surely as we see today with ANTIFA and BLM crying to "Defund the Police" in urban America.  The only difference will be instead of ANTIFA and BLM getting urban Politicians to divert Police Officer funding to social services; the faceless urban radicals and rich environmentalists will lay off the wildlife officers and the fish and game biologists and use their salaries to protect wolves (and grizzlies too in the next go-around) and use the money to restrict any hunting or fishing for what game is left as it slowly disappears and the schools indoctrinate the kids about The Brave New World being created.

For these and many more reasons we (ALL Rural Americans) have a stake in the outcome in Colorado.  They need money.  PLEASE not only consider giving them a donation but send this along to very TOM, DICK and HARRIET in your community, in you family and your organization and encourage them to give quickly so they can they can still put the money to good use in Colorado.

When asked what we did about all this one day, we should be like Kirk Douglas' fellow slaves in SPARTACUS when their Roman captors asked, "Which one is Spartacus?"  They all Raised their hands and then roared, "We are all Spartacus!"

Jim Beers
Wed. 19 August 2020

If you found this worthwhile, please share it with others.  Thanks.
Jim Beers is a retired US Fish & Wildlife Service Wildlife Biologist, Special Agent, Refuge Manager, Wetlands Biologist, and Congressional Fellow. He was stationed in North Dakota, Minnesota, Nebraska, New York City, and Washington DC.  He also served as a US Navy Line Officer in the western Pacific and on Adak, Alaska in the Aleutian Islands.  He has worked for the Utah Fish & Game, Minneapolis Police Department, and as a Security Supervisor in Washington, DC.  He testified three times before Congress; twice regarding the theft by the US Fish & Wildlife Service of $45 to 60 Million from State fish and wildlife funds and once in opposition to expanding Federal Invasive Species authority.  He resides in Eagan, Minnesota with his wife of more than 5 decades.
Charles E.Kay
Ph.D. Wildlife Ecology