A recent article in Range magazine addresses serious and deeply concerning changing political landscapes  in the West.
It has become increasingly clear that the real political divide in this country is between rural and urban values, and rural and urban areas.  But it's people who drive politics, and you know where most of the people are.
On a national political map, which appears to have a lot of Red, essentially all large urban metropolitan areas — where most of the people are — are solidly Blue.  But the problem — especially in Western states — is that the urban metropolitan areas completely dominate the political landscape, and are in the drivers seat policy-wise.  And Western states are increasingly shifting toward Blue. Think California.  Oregon.  Washington. Now New Mexico.  Nevada is split.  So is Arizona, and both are approaching a total tipping point.  And Colorado is right behind.  Right here in the West.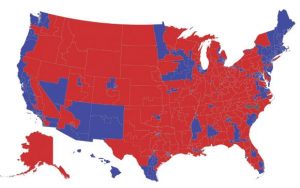 Now let's consider some of the most basic, and serious political implications.  Aside from protection of abortion rights, among the single highest socialistic priorities of the political left is increased gun control in an effort to ultimately completely disarm this nation.  And increased gun control is attempting to take the country by storm this year.  A growing number of states have recently passed or are seriously considering serious and intrusive gun control measures — including right here in the West.
Although the West has long been considered a stronghold for gun rights and the Second Amendment, there is plenty of cause for concern.  The New Mexico State House just passed a new "Red Flag" gun control law, that would allow judges to issue orders authorizing the confiscation of an individual's firearms based on nothing more than hypothetical concerns.  The Colorado State Assembly is seriously considering a similar measure.  And he Utah state legislature, which has long been considered a bastion of conservative values, is currently considering several intrusive gun control bills that would have never before gotten any traction at all before now.

Among the current Utah proposals are a Red Flag bill, that would authorize the individual confiscation of guns, as well as a proposal to raise the legal age to acquire firearms to 21, and another proposal that would require background checks for all firearms transactions, which would essentially put an end to the legality of private gun transactions between private party individuals.  In light of a tragic recent shooting death of a University of Utah student athlete, Lauren McClusky, by an estranged lover with a "borrowed" gun, there is also a current bill pending before the Utah State Legislature, dubbed "Lauren's Law," that would authorize liability lawsuits against gun owners whose firearms are used to commit crimes, regardless of whether the owner(s) had any actual knowledge of such use or intent or not, leaving gun owners wide open to liability in a broad spectrum of unthinkable scenarios.
Add to all this the fact that, as a general rule, more and more Millenials favor increased gun contol, the bottom line is that what is happening right now is serious.
If we value gun rights and the Second Amendment, we better get serious about doing something about it.  Please contact your state legislators.  Make your voices heard.