SALT LAKE CITY — [According to a recent article published on ksl.com], a U.S. Department of Interior's inspector general report released Thursday said it found no evidence former Utah legislator Mike Noel influenced the shrinking of Grand Staircase-Escalante National Monument to benefit financially.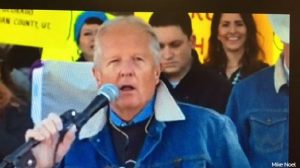 Noel, who owned 40 acres inside the monument's boundaries when President Donald Trump ordered the acreage reduction in December 2017, was accused of exerting influence during the monument review process by the public lands advocacy organization, Western Values Project.
"I knew [the accusation] was false from the get go," Noel said Thursday in reaction. "I never had any doubt I would be exonerated."
---
I knew it was false from the get go. I never had any doubt I would be exonerated.
–Mike Noel, former Utah state representative
---
Noel said he met with the senior investigator with the inspector general's office for several hours during the probe.
"I answered everything truthfully," he said. "I have never, ever brought up to the Department of Interior or the Bureau of Land Management my personal property holdings."
Chris Saeger, Western Values Project's executive director, called the report flawed.
"This report is incomplete and raises more questions than it provides answers," Saeger said. "It really highlights the haphazard process this administration used to slash protections for some of our most treasured public lands, a process that failed to adequately listen to all public and stakeholder voices."
A synopsis of the report disputes Saeger's characterization of the monument review process.
"We found that although the (Department of Interior) had no formal processes in place for modifying national monument boundaries, DOI staff developed a process and followed it when reviewing the (Grand Staircase) monument and other DOI-controlled national monuments under consideration for boundary modifications," it noted.
The report said it found no evidence Noel influenced the agency's proposed revisions to the monument or that then-Interior Secretary Ryan Zinke or other staff were aware of Noel's financial interest in the revised boundaries.
Investigators interviewed Zinke, Noel, a Kane County official, and eight Interior Department and BLM employees in support of the probe.
The Grand Staircase-Escalante National Monument and the Bears Ears National Monument were reduced in size in a Trump proclamation now under litigation in the federal courts.
Native American tribes and a coalition of environmental and conservation organizations are challenging the reductions, arguing the U.S. president lacks the legal authority to modify previous monument designations.
Noel retired from the Utah Legislature last year after 16 years.
To learn more about Mike Noel,read The Making of a Herd Bull — the Political Evolution of Southern Utah's Mike Noel.