WILDFIRES: UNDERSTANDING & PREVENTING THE DESTRUCTION
Something can and should be done, immediately. Waiting is dangerous.
When President Trump visited the devastation in California, he said the cause of the wildfires was poor forest management.
True.
But, the rest of his facts showed an alarming naiveté when he threatened to withhold "federal payments." Forest management policies and practices are set and administered by his own federal agencies. He later suggested the forests should be "raked."
In the Spring 2017 issue, Dave Skinner, RANGE magazine's award-winning investigative writer known for his impeccable research, predicted in his piece titled, "Unforgettable," that: "Apparently, President Donald Trump will bear watching because he knows little about the West and issues. When asked about transfer of public lands, the then-candidate Trump told Anthony Licata of Field & Stream, 'I don't like the idea because I want to keep the lands great, and you don't know what the state is going to do.'
"Clearly, while the new Trump presidency beats an overtly hostile Clinton II White House by miles, westerners nonetheless must watch this new administration closely," Skinner advises. "The president knows next to nothing about western matters."
Skinner adds: "There is real danger that the Trump White House views the West like voters saw Trump—as an inkblot, a blank slate of what one hopes to see, not as how things actually are. When it comes to the public-lands West, the Trump administration faces a steep learning curve with major knowledge gaps. Those gaps will absolutely be filled by those willing to do the filling."
WHAT HE NEEDS TO KNOW
In 2003, Dale Bosworth, former chief of the U.S. Forest Service, one of the federal agencies involved in forest management, made a chilling comment: "We have some 73 million acres of national forest lands at risk from wildland fires that could compromise human safety and ecosystem integrity. The situation is simply not sustainable—not socially, not economically, not ecologically."
Today, after the destruction in California, Bosworth's assessment of the situation has become even more ominous. The destructive fires can be directly linked to the failed policies of the federal agencies charged with protecting America's forests and litigation-happy special-interest groups. The horror that occurred in California and the other thousands of fires can be traced back to a bird, the spotted owl.
Things must change.
In 2018, between January 1 and September 7, there were 46,765 wildfires in the United States, according to the National Interagency Fire Center. The agency also reports over the past 10 years, the financial loss is $5.1 billion. Overall, 2018 is the most destructive wildfire season on record for California; all we can do is mourn the dead, hope for a happy ending for some of the missing, and reach into our pockets to support those who have lost everything.
The following is not a news release as it is a fact-filled report for your information. We would appreciate crediting RANGE magazine if you find portions useful in your reporting.
RANGE magazine has been following the wildfire devastation for more than 25 years and its insight on the causes and hope for the future have been recognized by fellow journalists.
On Sept. 29, 2018, RANGE received 16 major awards during the Nevada Press Association's (NPA) annual conference in Las Vegas, Nev. Of the 16 awards, the magazine received a Best Investigative Award for a comprehensive piece, "Wildfires: Countdown to Destruction."
RANGE also received a First Place award in 2013 for its wildfire coverage.
In 2018, the judges commented: "Good overview of the ecology of the region. Nice mix of perspectives." The competition was judged by the Wyoming Press Association. The awards also included RANGE's sixth consecutive Freedom of the Press Award.
In 2013, judges wrote, "This is powerful advocacy journalism, often told in first person by people who are living the issues of the West. It is decidedly one-sided, and suffers at times from not challenging the writers' own conclusions, but the overall impact is strong." The 2013 competition was judged by the Arizona Press Association.
BACKGROUND: Fires will continue to ignite too-thick drought- and disease-plagued brush and trees, setting off thousands of blazes that routinely put people in peril, destroy their homes and livelihoods, kill livestock and wildlife, and place America's food source in jeopardy.
THINK ABOUT THIS: On a serious note, humorist Lee Pitts reflected in 2016, what will be in jeopardy by wildfires. In "Thank a Farm Animal," Pitts enumerated the hundreds of products found in drugstores that have ingredients from cattle, sheep and hogs. Out of a 1,000-pound steer, only 568 pounds is consumable meat. In fact, if anemic blood ever failed to clot, the doctors would probably save your life with a drug called thrombin. It came from a farm animal.
Let's do a little fact checking. Other than clothes and shoes, Pitts cites some of the animal-based products we take for granted. Makeup is made from animal byproducts. Plastic surgery would be impossible without cartilage from cattle and animal sutures. Adrenaline from livestock gets those hearts restarted. Biodegradable soap. Leather ball gloves and pigskin footballs. Violin strings and artists' brushes. Just to name a few.
WE WERE WARNED: Large parts of the western United States were predicted to have above-average potential for significant wildfire activity this year, according to the forecast released by the National Interagency Fire Center (NIFC). The "National Significant Wildland Fire Potential Outlook," released May 1, 2018, predicted above-average significant wildland fire potential in about a dozen Western states."
States predicted in the eye of the firestorm included Arizona, California, Colorado, Idaho, Kansas, Montana, Nevada, New Mexico, Oregon, Texas, Utah and Washington. The number of wildfires and acres burned annually depends not only on wildland-fire potential, but also on the number and timing of lightning strikes and human-caused ignitions.
HOW DID THIS COME ABOUT?
 The destructive potential for fires can be directly linked to the failed policies of the federal agencies charged with protecting America's forests and with litigation-happy special-interest groups, according to RANGE, a publication devoted to issues that affect ranchers, wildlife and food production.
RANGE is the outspoken advocate for people who work on the land and is a critic of human-caused problems that plague the West. For decades, RANGE has featured a collection of environmental analyses and special reports on such topics as the link between the health of American forests, destructive wildfires, drought, governmental policy, endangered species, crippling of the logging industry, dire economic consequences, a disappearing rural culture, and legal actions by environmental groups. Playing a starring role in the situation is the impact of federal control of more than 30 percent of America's lands, making bureaucrats in Washington, D.C., the country's largest landholders.
Westerners are particularly vulnerable because 50 percent of their landmass is federally controlled. In Nevada alone, 84.9 percent of the state's 110,000 square miles is under federal jurisdiction.
RANGE's numerous special reports about the power of environmental groups, such as Sierra Club, the Wilderness Society, and the Center for Biological Diversity, that have the money and political muscle to design the message and file lawsuits that lay the groundwork for federal decisions that not only close off public lands to food production and recreation but can have tragic consequences.
For example, a successful campaign by environmental groups to have the spotted owl declared a threatened species literally destroyed the timber industry in the 1990s and, as a direct result, wildfires destroy millions of acres because forests are a tinderbox of diseased trees and biomass just waiting for Mother Nature or human carelessness to strike. The tragic loss of life, land, homes, and wildlife could be lessened by selective harvesting and clearcutting.
Clearcutting removes trees and biomass in locations wherever U.S. Forest Service (USFS) or private landowners choose. (It is routinely used in the West Coast Douglas fir region because Douglas fir is shade intolerant and cannot successfully regenerate itself in its own shadow.) The cut area looks rough for a while but offers great relief to the forest. Clearing away trees will also stop tree-killing crown fires. The flames have to go around and start over again on the other side. Again and again. The clearcuts buy time and space. Clearcutting is more scientific and effective than the "raking," suggested by President Trump.
Selective thinning means many of the trees in a block of thick forest are cut, eliminating competition and leaving trees with space around them to get more water. Trees with space have more vigor that can fight disease and insect infestation. Thinning also means more sun gets to the forest floor, which can then grow grass and forbs for deer and other wildlife.
There is a bit of good news: There are some who are starting to realize selective thinning and clearcutting of the forest are positive approaches in combating wildfires.
The bad news: There are few loggers, sawmills or equipment in former logging towns—basically, timber as a vigorous industry no longer exists. Unfortunately, fire season is upon us, and those in the path of the firestorm still await policy changes from the U.S. Forest Service regarding public lands.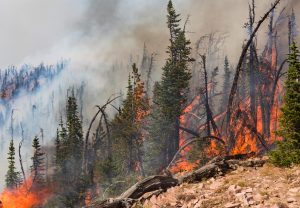 ACCESS RANGE'S ARCHIVES OF WILDFIRE REPORTS
To access a few of RANGE magazine's more than two-decade archives addressing wildfires, visit www.rangemagazine.com, and click on the BACK ISSUES icon at the top of the home page. Following each release, which provides the issue and title of specific stories, there are a number of corresponding photos/graphics available for your use. If any of the special reports or coverage of wildfires by RANGE is useful in your reporting, we ask that you give RANGE editorial and photographic/graphic credit.
To request interviews or if you have a need for high-res photos, please email needs (DPI and Width) to editor C.J. Hadley at edit@rangemagazine.com.
WHERE TO START: "Special Report: The Great Lie," Fall 2006 
A comprehensive report covering all the aspects of the destruction of American forests, from the spotted owl, the special-interest groups, the people, and the failed policies. A timeless read.
A GUIDE TO SOME STORIES OF INTEREST
Following is a story that appeared in the Winter 2013 issue of RANGE. Despite the intervening years, the story about living through the desperation and fear during a wildfire is remarkably current; only the location changes.
"Quiet Except for the Wind," by Carolyn Dufurrena, Winter 2013
Carolyn Dufurrena is a rancher, geologist, writer, photographer, teacher, and cowboy poet. Her essay about living through a wildfire was recognized by Arizona Press Association, which judged the Nevada Press Association journalism competition. Her chilling first-person account was awarded First Place: Best Feature Story, also contributed to her recognition as Outstanding Journalist, and was instrumental in RANGE's selection of Best Investigative or In-Depth Story or Series. Judges commented, "The writing stands above, and the story is compelling because she lives it."
"A House on Fire," Jim Petersen, Spring 2018 
Jim Petersen is the Idaho-based founder and president of the nonprofit Evergreen Foundation. Petersen uses bar graphs assembled from U.S. Forest Service data that quantify annual gross growth, mortality, net growth and removals in national forests in Idaho, Montana and Washington east of the Cascade Range.
"It's an ugly scene," he notes. "Mortality now exceeds gross growth in central and eastern Washington and will soon surpass gross growth in Idaho and Montana. Colorado has already fallen into a black hole and California is not far behind. He suggests Oregon is no different than Washington, Arizona and New Mexico, and Wyoming is more of the same."
Petersen's solution to an unworkable situation? Despite recent testimony to Congress, the ecologist says we need to question whether the Forest Service really has sufficient staffing to move faster than it does. "We also need to separate firefighting from forest restoration work. Sending thousands of Forest Service employees off to fight fires every summer is ridiculous. Nothing gets done, but even worse, the cost of fighting wildfires—more than $2 billion last year—has been deducted from the Forest Service's forest restoration budget," he writes.
Before the latest wildfire, Petersen listed California as at risk for wildfire destruction. "Annual mortality is 68 percent of gross annual growth in California's national forests. More than 100 million dead trees are ready to fuel wildfires of unprecedented size and ferocity. The state's wood processing complex collapsed after the northern spotted owl was listed as an endangered species in 1990."
"Wildfires," by Jim Steele, Winter 2018
Writer Jim Steele is an ecologist who was a principal investigator for the U.S. Forest Service. Steele's science-based analysis refutes claims that wildfires are "part of a dire global warming-fueled trend toward larger, more frequent and intense wildfires." He contends proponents are ignoring a well-documented history of natural climate change, ignoring the ill-advised 20th Century policy of fire suppression, and ignoring the increased percentage of fires set by humans.
  "Unfortunately, large fires are more likely today because past fire suppression has caused an unnatural buildup of fuels," he writes. Steele's meticulous charting of temperature and drought models led him to question: "Should we trust dire future predictions from models that failed to simulate the extreme droughts of the 20th Century?"
 "Fire!" Three-part Special Report: "Destruction of the West," by Judy Boyle, an Idaho state legislator and former natural-resources director for Congressman Helen Chenoweth-Hage. "The Aftermath," by Andrea Scott, a southern Idaho writer; and "Get Out of the Fire," by Steven H. Rich, a range-management expert. Winter 2016
"Firefighting on federal land has become a big business with little incentive to put fires out early but, as with everything else, if it doesn't make common sense, then follow the money," writes Boyle. She cites a series of operational failures by the Bureau of Land Management and U.S. Forest Service—misjudgment that led to horrific destruction.
Andrea Scott looks at the aftermath of wildfires, and Steven H. Rich, reports on the lessons not learned from the nation's first mega-fire in Arizona that killed six firefighters, burned 24,000 acres and destroyed 63 homes in June 1990.
"A Collision of Visions: The Truth About the Woods," by Bruce Vincent. Spring 2013 
Bruce Vincent is a third-generation logger, and is owner of the consulting firm Environomics, executive director of Provider Pals, and member of the board of the Evergreen Foundation.
"In 2000, the General Accounting Office presciently reported that the single biggest threat to 192 million acres of western forests is catastrophically huge, catastrophically hot, stand-destroying forest fires. Fed by pervasive fuel-loading problems in our dead and dying overstocked forests, the casualties of the coming calamity will include our wildlands, watersheds, wildlife and forest communities. The report states that the agencies [federal] have done precious little to combat the potential collapse of forest ecosystems," writes Vincent.
"Clearcuts Don't Burn," by Derek Weidensee, Fall 2011 
Derek Weidensee has worked as a licensed land surveyor for decades in Rapid City, S.D. Before that he spent 10 years as a logger, five of those salvage logging beetle-killed timber in the Targhee National Forest in Idaho. Weidensee's analysis explains how clearcutting works and why, when used as a preventative measure, it reduces the severity of wildfires.
"Logging, Good Sense & Hypocrisy," by Derek Weidensee, Winter 2012 
Derek Weidensee draws on his experience as a logger to explain why the fear of wildfires is behind a growing public desire for more logging of America's forests.
'The Warning," by ecologist Steven H. Rich, Winter 2009
Steven Rich, a range-management expert, explores the naïve acceptance of wildfire's catastrophic destruction by the public.