It's going to happen. Unfortunately, LaVoy won't be there, but one year later, the previously intended meeting is going to happen.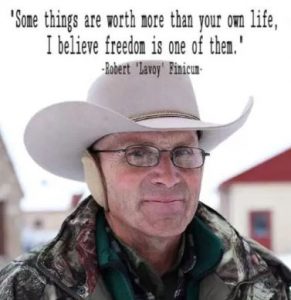 Background:  According to an upcoming article in Range magazine,  on January 26, 2016, while traveling  with others from the lawful occupation at the Malheur National Wildlife Refuge in Harney County, Oregon to a public meeting with the Grant County Sheriff in John Day, Oregon, LaVoy Finicum was shot and killed by law enforcement, Ryan Bundy ended up with bullet shrapnel in his shoulder, and the other occupants of LaVoy's vehicle ended up thoroughly terrorized. At this point we know that there were no arrest warrants, indictments, or probable cause for the stop.  The other occupants of the vehicle were tried and acquitted of federal charges stemming from their actions at the Refuge.  We also know that there is an ongoing investigation into an obvious cover-up by the FBI about its role in the fatal stop, including alleged efforts to escalate a full-fledged confrontation intended to result in a shoot-out that would produce even more casualties.  In addition to LaVoy's bullet-riddled pick-up truck, there is mounting evidence of an FBI plot to stage a provoked shoot-out intended to escalate into an even bigger massacre.
In commemoration of the one-year anniversary of LaVoy's death and the meeting in John Day that never happened, on Saturday, January 28, 2017, the Finicum family will be sponsoring "The Meeting with LaVoy that Never Happened" at the Grant County Fairgrounds in John Day, Oregon.  
The event will be from 4:30 – 10:30 PST.  There is a great line-up of speakers, including Bill Norton from the Center for Self-Government, Constitutional Attorney, KrisAnne Hall, Rural Radio Guru, Trent Loos, Patriot Attorney, Morgan Philpot, Radio Personality, Kate Dalley, and champion of liberty, Garrett Smith.
For more information and/or to register for the event, CLICK HERE.