In the week before Christmas, the Bears Ears Monument debate has reached feaver pitch.  Many are concerned that President Obama will ignore congress, ignore local sentiments, and create one last "midnight monument" as he leaves office, leaving lots of questions and a big mess in the wake of such a designation.
Reposted from the Deseret News.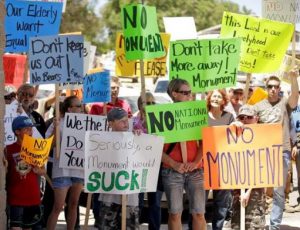 BEARS EARS, San Juan County — Hope and fear have become part of the landscape of a remote and rugged region of southeast Utah, where the destiny of a place called Bears Ears is so frenzied it is a paradox.
The area is serene, but the political fight over a possible monument designation for Bears Ears is far from that.
"There's no landscape like this anywhere that has the combination of well-preserved archaeology, jaw dropping beauty and world class recreation," said Josh Ewing, executive director of Friends of Cedar Mesa and an ardent supporter of a new monument.
Ewing believes a monument designation will bring much needed protections for an area that likely boasts more cultural relics than any other U.S. national park or monument, and more than Utah's Mighty Five combined.
This ancient place is still special to the Native American tribes who lived and hunted on this land, as it is to tribal members who live there today, as it is to San Juan County ranchers, farmers, residents, hotel owners and hikers.
A monument designation of 1.9 million acres — sought by supporters — would save this land, or to critics, damn the existence of what is Utah's poorest county.
Opponents say to declare a monument is to lock up the land, its natural resources, access, and for a U.S. president to do it with a stroke of a pen is an arbitrary exercise in arrogance that ignores local self-determination.
"This is what gets me. When a president misuses his power under the Antiquities Act with a golden pen, one man declaring a national monument, deciding what is best for this land, where did our democracy go?" questioned Mark Whitney, a Beaver County commissioner and the newly installed president of the Utah Association of Counties.
Whitney and multiple other opponents of a monument designation are set to rally at the Utah State Capitol on Monday, hoping a show of force will stave off what many suspect is inevitable.
The Bureau of Land Management, a federal land agency, is in control of the land that is the Bears Ears region now. If a monument were to be designated, the BLM would still be in control, but Ewing believes more protections would follow.
"It's irresponsible for us not to do something to recognize the area's importance and take steps to preserve what makes it so attractive for visitors in the first place. While monument opponents say a monument will just make this worse, that's only if we stick our heads in the sand and don't fund management of the monument," Ewing said. "With proactive management and education about how to visit sites respectfully, we can reduce impacts from visitation through a monument."
No one disputes that some portion of the Bears Ears region needs an extra layer of protection. There's been vandalism of ancient Native American cultural sites, looting of graves and visitation has skyrocketed. The BLM has one ranger to patrol the area and lacks the mechanism to educate visitors about respect for resources.
This is, after all, wide open country. The monument footprint is larger than Delaware, larger than Rhode Island.
"The magnitude of this is unbelievable," Whitney said. "When you think of locking up 1.9 million acres, the scale of it is beyond what you can imagine."
For comparison, Zion National Park is less than 150,000 acres. Arches National Park is a little more than 76,000 acres and Canyonlands is 337,598 acres.
San Juan County has 8 percent of its land in private ownership. The rest is owned by the federal government or the state. To erase the multiple-use opportunities now afforded at the Bears Ears region is, for some, to erase the opportunity to make a living.
Leaders of the Hopi Tribe, the Navajo Nation, the Ute Mountain Ute Tribe, the Pueblo of Zuni and the Ute Indian Tribe formed the Bears Ears Inter-Tribal Coalition in 2015, uniting to save the land from what they say is an onslaught of threats.
"The region faces an urgent need for conservation," the coalition said in a statement. "Congress has turned their back on sites sacred to tribal nations, leaving Bears Ears at risk to the continued threats of grave robbing and vandalism, while destructive uranium, oil and gas and potash mining projects are being proposed."
Not all Native Americans in the region are on board, however. The Aneth Chapter of the Navajo Nation broke rank with the other chapters and stands strong in opposition.
Rebecca Benally, a Navajo and San Juan County commissioner, said local Navajo are opposed.
The division in support has not only split some families and fueled fights, but infested the county with political wounds that will not heal easily.
Blanding, Monticello and San Juan County governments have all come out against the monument. They are joined by every member of Utah's congressional delegation and the governor.
"I don't know of a county commissioner in the state that supports this monument," Whitney said. "Not one person."
Some caution monument supporters to be careful what they wish for.
Christopher Hagedorn, owner and lead guide of Get Into the Wild Adventures, believes a monument would help his business, but ultimately hurt the land.
He wrote Obama on Friday, urging him to put down the pen.
"On the surface it is easy to believe that parks and monuments are the quintessential tool for protecting wildlands of all shapes, sizes and characteristics," he wrote. "In my view, they are not. Some of the most amazing wilderness areas I have visited in my life do not hold any type of formal designation."
In contrast to Ewing, Hagedorn said a new monument would create more problems, with more visitors, more vandalism and a destruction of the simplicity and solitude that exists there now.
"This is an irreplaceable quality and there is a good likelihood that it will all go away should a new national monument be created," he said.
A majority of monument opponents say protections should come with a public lands bill, but critics say Utah leaders have failed to act and the land remains vulnerable.
The fate of Bears Ears and San Juan County rests with one man, one pen, one document.
As Christmas nears and the frantic last minute shopping reaches a fervent pitch, those wrapped up in the worry of what happens to Bears Ears — on both sides — hope there is another reason to celebrate.