In order to maintain public confidence in a civil society, not only must justice be done, it must also be seen to be done.  Reposted from Mesquite Local News.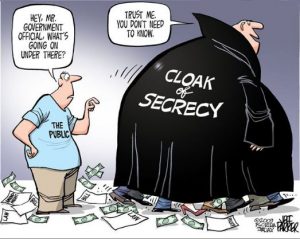 This past week Nevada's Chief U.S. District Judge Gloria Navarro upheld a sweeping protective order by a federal magistrate that seals documents and gags participants in the pending trial of Cliven Bundy, four of his sons and a dozen co-defendants on charges resulting from the April 2014 standoff at Bundy's Bunkerville ranch, because that information might be used to intimidate witnesses.
The protective order was challenged by the Las Vegas Review-Journal, this newspaper and The Associated Press, which argued the order was overly broad and would prevent public scrutiny of a high-profile and significant case.
In upholding the secrecy, Navarro noted that case law dictates, "The district judge 'may not simply substitute its judgment' for that of the magistrate judge."
But she later declared in the 10-page ruling, "The Intervenors proffer nothing but assumptions and conjecture about whether true threats were made as opposed to idle threats. This speculation does not refute (U.S. Magistrate) Judge (Peggy) Leen's finding of good cause, let alone demonstrate clear error," though the original order was based largely on assumptions and conjecture about largely anonymous Internet rants.
Navarro also dismissed as inefficient and impractical suggestions that certain information could be selectively redacted, instead of everything being sealed in its entirety as soon as it is filed, due to the fact the case involves 1.4 terabytes of digital information.
Freeing court personnel from a little paperwork trumps the unfettered ability of the defendants to have the public spot flaws in the documents and testimony that will determine whether they are to be incarcerated or freed?
Leen wrote in her order this past summer, "All materials produced by the government in discovery in this case, including, but not limited to: grand jury transcripts, agency reports, witness statements, memoranda of interviews, and any documents and tangible objects produced by the government shall be treated as confidential documents."
The judge warned that defense attorneys may not even share notes relating to the contents of discovery with anyone not employed to assist the defense, and anything filed in court relating to the discovery must be filed under seal.
Leen reasoned that victims and witnesses could be vulnerable to "cyberbullying, threatening communications, and intimidation from Bundy supporters," which could have a chilling effect on witnesses. She determined this even though almost all of the 22 allegations of intimidation are more than two years old and nothing substantive has come of any of them.
The defendants face felony charges that include conspiracy, obstruction, extortion and assault, which carry penalties of up to 50 years in prison. The standoff occurred after armed Bureau of Land Management law enforcement agents attempted to roundup Bundy's cattle after he had refused for 20 years to pay grazing fees in the Gold Butte area. The BLM said he owed $1 million in fees and penalties.
Faced with armed protesters the BLM agents eventually released the cattle and left to avoid potential bloodshed.
Attorney Maggie McLetchie, who represents the media in this case, had argued to the court, "One of the most critical aspects of news reporting is to inform the public of justice being carried out in the courts. In this regard, the press is vital to the health of a democracy. … This right is anchored in the value of keeping 'a watchful eye on the workings of public agencies,' and in publishing 'information concerning the operation of government.' … 'In short, justice must not only be done, it must be seen to be done.'"
McLetchie told the Las Vegas newspaper after the recent ruling, "We are disappointed because an overly broad protective order limits how much access the media, and therefore the public, has to information about this high-profile case. … As the case progresses, it will be a challenge to litigate matters in open court when so much is hidden from the public. The order can also have a chill on litigants' willingness to speak to the press because, with such a broad order, it is hard to know if you can say anything."
The lack of public scrutiny means that any extenuating or mitigating circumstances that the public might shed light on will not come until the time of trial, when it might be too late. — TM