The Oregon Standoff Trial has brought several confusing and often-misunderstood concepts into focus. These concepts include Seeking Redress of Grievances, Adverse Possession, Prior Appropriation & Beneficial Use, etc.  Based on social media and other discussions, it has become clear that there are major popular misconceptions regarding these concepts.  Based on those misconceptions, we have received multiple requests to address and help dispel these popular misconceptions. What follows is a series of video clips addressing these issues.
SEEKING REDRESS OF GRIEVANCES — in a Nutshell
It is unlawful for government — at any level — to retalate against anyone for seeking redress of government — but there is far too little accountability.  For additional discussion about retaliation for seeking redress of grievances, consider this article at PAHVANTPOST.ORG. 
EXAMPLES OF SEEKING REDRESS OF GRIEVANCES
ADVERSE POSSESSION — in a Nutshell
A Cursory Search reveals that there have been at least Seven Successful Adverse Possession Claims Against the Federal Government under 43 USC 1068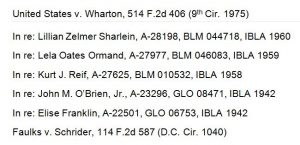 PRIOR APPROPRIATION & BENEFICIAL USE — in a Nutshell
"GRAZING FEES" — in a Nutshell
RANGE / RANGEFIRE! — Addressing Issues Facing the West / Spreading America's Cowboy Spirit Beyond the Outback