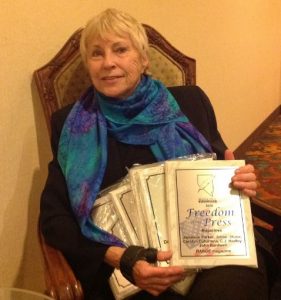 For those who don't know CJ Hadley, she's not easy to keep up with.  At a time when most people would be well into retirement, CJ is just catching her second wind in her second career at RANGE magazine, which she started over 25 years ago.
We were blessed to have a chance to spend some time with CJ at the Nevada Press Association (NPA) awards dinner in Mesquite, NV on Saturday, September 24, 2016.  Little did we know where our little gathering would lead.
RANGE magazine received 13 awards, including seven first place awards, as well as the prestigious Freedom of the Press award for the fourth year in a row, for its extensive special report coverage of "The Grass March," — an effort to protest treatment of Nevada ranchers in the BLM's Battle Mountain District, who were not being allowed to graze their allotments despite ample feed and forage.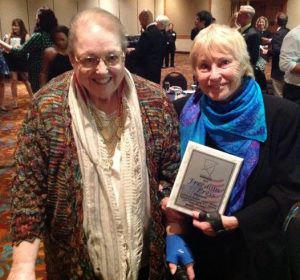 For the first time ever, RANGE magazine, along with CJ Hadley and her assistant Ann Henderson, had their own cheering section at the NPA awards dinner.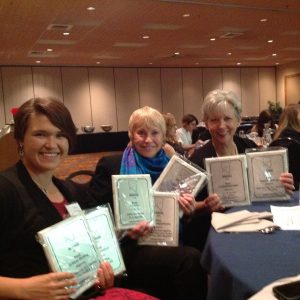 In the overall scheme of things, however, perhaps even more important than the award and the awards gathering was the "meeting after the meeting," which included a spontaneous, informal roundtable discussion between CJ, Carol Bundy, Kathy Smith and others who have a serious personal stake in the subject matter of RANGE's coverage, and critical issues facing the West.
Their impromptu gathering was compared to the Great Old Broads for Wilderness, who were influential in the early days of the environmental preservation movement.  Although the Great Old Broads website is no longer functional, for more information about the organization, its founders and orgins, consider this article from the Salt Lake Tribune in 2015.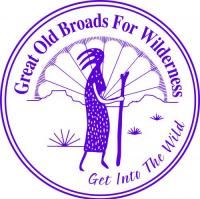 According to a UPR interview/article in early 2015, "[GOBW] Founder Susan Tixier and her fellow activists were saw that an important voice was missing from the environmental movement: the older woman—impassioned, experienced, not afraid to speak out, and definitely not needing roads. The group committed themselves to grassroots advocacy to preserve Wilderness and wild places for future generations."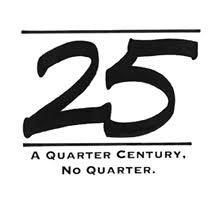 In this case, in light of the fact that the male figures in the range rights recognition movement over the course of the past 50 years seem to have struggled to work together and stay on the same page, and make their voices effectively heard, there were discussions about having women counterparts in the Western ranching world start putting their heads together to come up with better solutions and options for moving forward, and developing a more effective voice for western ranching and range rights.  Great Old Broads for Ranchers Range Rights?  They might be on to something.  Should be interesting.