"Part of my reason for taking this trip was to decompress from nine months of following the theo-constitutionalists in Utah, their involvement in Malheur, and their influence over both the public lands transfer and portions of the "sovereign patriot" movements. I guess I couldn't get away, and told [Arvol Looking Horse] I thought instead of white theo-con Mormon patriots taking over a national wildlife refuge, at least he'd see our original sovereigns with a righteous takeover in a postage stamp park.

He was not amused.
 NOTE:  In the West, there is an old saying to the effect that: "good fences make good neighbors."  At RANGEfire! we acknowledge our virtual neighbors on this virtual landscape, We acknowledge that there are always multiple sides to every story.
Contrary to Zinda's theories, here at RANGEFIRE! we seek to avoid being a one-sided, single-dimensional echo chamber.  We think it is important for people to have an opportunity to hear all sides of the story, and know what others are saying about these issues.  So we often share what others are saying.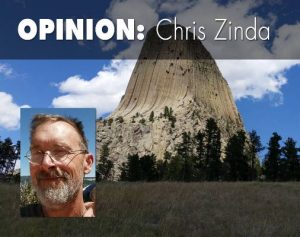 WHAT OTHERS (Zinda) ARE SAYING: 
"You alone — and only you — can make this crucial choice, to walk in honor or to dishonor your relatives. On your decision depends the fate of the entire World. —Chief Arvol Looking Horse
According to Zinda, "We began our month long trip to Wisconsin in southeast Utah's soon-to-be Bears Ears National Monument three weeks earlier, taking our time seeing family, friends, and beautiful places along the way.
Treating it a bit like Edward Abbey's "The Fool's Progress," I hadn't been "home" for a long time and instead of being with my dog was with our kids, 7 and 10, who are now of age to remember forever and maybe appreciate the Hoop of Life.
Heading back home to our place just outside of Zion National Park, we took the northern route through South Dakota and the Wyoming Black Hills where I once lived and worked at Devils Tower National Monument in the 1990s. I wanted to show our knuckleheads the Bear's Lodge and tell them the story of how their father was a very small part of its history.
I told them of the Bear's Lodge and its importance to indigenous peoples of the Plains. Of how Teddy Roosevelt used the 1906 Antiquities Act to set aside Devils Tower in the same year as America's first National Monument. That back home in Utah, where we began our trip playing at Natural Bridges, Cedar Mesa, and Comb Ridge, the Bear Ears region was also soon to be proclaimed by President Obama as a national monument. And that some of the anti-public lands radicals about I've been writing about didn't like it.
I told them that back in the '90s as an administrative clerk, my first permanent job with the National Park Service out of graduate school, I was at the table taking notes while NPS, Sioux, Cheyenne, and rock-climbing advocates negotiated. The purpose of the meeting was to determine whether or not the NPS should establish a climbing ban during the month of June as the indigenous peoples believe Bear's Lodge to be sacred, still gathering to this day at the monument for the annual Sundance while members of the climbing community were split with local climbing guide Andy Petefish of Tower Guides vigorously resisting any such ban.
Those who know me know I talk too much and really don't know my place, so to the credit of everyone around the table, I made the suggestion that a voluntary closure be put into effect during June and, if it did not prove effective, folks could revisit the issue of a mandatory closure at a later time. They accepted.
The NPS began promoting this message and was sued by Petefish who allied himself with the anti-environmental "states rights" Mountain States Legal Foundation headed by former Secretaries of the Department of the Interior James Watt and Gale Norton. They objected to even a voluntary ban, saying that the Establishment Clause prevented the NPS from establishing a "religion," and lost. The voluntary ban is still in effect with an approximate 80 percent success rate.
It is important to note that both Watt and Norton continued oppressive government malfeasance with their complicity in the DOI Indian Trust Fund scandals that involved billions in missing First People's monies.
Petefish also taught me an early life lesson about so-called altruistic "wreckreationists" encouraged by their own self-interest that is marketed by hiking, climbing, mountain biking, and motorsports industries. It is the foundation of why the very idea of Sally Jewell being Secretary of the Department of the Interior after serving as the CEO of wreckreation juggernaut Recreational Equipment Incorporated — better known as REI — is so ethically repulsive to me. The problem is best demonstrated by the NPS currently utilizing donated vehicles as corporate billboards, proposing to allow for sponsorship of NPS infrastructure and licensing of park names and features to capitalize from corporations and their never-ending marketing needs.
We waited in the long but thankfully small single-laned entrance station line and entered Bear's Lodge, immediately hitting the lesser-used Joyner Ridge Trail parking lot and noticing the park ranger vehicle with two others. After we popped the top on the camper and set out the chairs for lunch with a stunning view of the towering lodge before us in a cotton-ball blue sky, down the trail came two gentlemen who, in my racism, looked Lakota.
"Can I ask a couple of questions?" I ask.
"Talk to him," was the response.
We proceeded to shake hands and introduce ourselves, and I asked my questions.
Before me was Arvol Looking Horse. He stated that the voluntary climbing ban has not worked and that, in his view, not only should Devils Tower officially be renamed "Bear's Lodge" but there should be a year-round climbing ban.
Hearing this 20 years later, I went one step further to assert that Bear's Lodge should be returned to native people. I thanked him for his time, and we again shook hands and reminded each of our names.
As Mr. Looking Horse and his associate left, the chief ranger of the monument was walking down the trail, where I also struck up a conversation. After "I used to work here" and "Did ya know Schlinkman?" — an unforgettable former chief ranger, tower first ascent climber, NPS search-and-rescue professional, and friend lost to the spirits, who was also at that table long ago — he warmed.
I asked about the success of the voluntary climbing ban. He proceeded to tell me that CNN was doing a piece on Devils Tower and its cultural significance and was interviewing Mr. Looking Horse, who was a recognized spiritual leader of the Sioux nation and the 19th generation keeper of the Sacred White Buffalo Pipe.
I was suddenly stunned by the fate of the meeting and humbled to be in the presence of a spiritual leader of such world consequence. I have since come to find that Mr. Looking Horse was at that meeting back in the '90s. We both traveled thousands of miles over the years, only to once again, serendipitously — through destiny or fate — meet over the same issues that tacitly brought us together in the first place.
To my kids, it was like when we met LaVoy Finicum last January before he was shot and killed during the Malheur National Wildlife Refuge takeover, another teaching moment for our lives.
The Chief Ranger and I spoke a bit more about the current success rate (still around 80 percent) about how he is truly underpaid for the work he performs (still paid at the GS-11 federal rate, you gotta be kidding me), and about how he is concerned of a future standoff at Devils Tower over the cultural importance of Bear's Lodge to the Sioux who back in the '70s were leading the sovereign charge with the American Indian Movement (Free Leonard Peltier!).
Part of my reason for taking this trip was to decompress from nine months of following the theo-constitutionalists in Utah, their involvement in Malheur, and their influence over both the public lands transfer and portions of the "sovereign patriot" movements. I guess I couldn't get away, and told him I thought instead of white theo-con Mormon patriots taking over a national wildlife refuge, at least he'd see our original sovereigns with a righteous takeover in a postage stamp park.
He was not amused.
*********
"Each of us is put here in this time and this place to personally decide the future of humankind." —Chief Arvol Looking Horse
Obviously, part of my purpose for the trip was also to share with the kids places that were important to my history and development as a person. Two are effigy mound sites in Wisconsin, places where woodland peoples of the Midwest created burial mounds in the shapes of spirit realm beings to bury their dead.
As a kid, these places evoked reverence, the mystery of spiritual places I wanted to explore, and a deep feeling of injustice for both the ancestors and those who remain, shaping my thoughts of social and environmental justice that have only refined and deepened as I've grown old. There used to be over 20,000 mounds in Wisconsin, the heart of the woodland mound-building culture, and now there are fewer than 4,000.
At Lizard Mound County Park outside of West Bend, Wisconsin, is a wonderful exhibit that illustrates what remains and what was lost at the site: a map on pedestal with raised metal effigies to be touched and felt. My kids could see the flattened cornfield to the west of the boundary of this also now postage-stamp place that once contained thrice as many effigy mounds as remain. Some were as long as football fields in the shapes of turtles, lizards, snakes, and cones. I ask, what do you supposed happened to the buried people?
It's a golden opportunity to discuss the criminality of manifest destiny and economic gain.
Economic gain, racism, and treaty rights were also a part of their history, I told them. As my father was a fishing guide in the lakes of northern Wisconsin for over 30 years, he was one of the thousands that would protest in blaze orange, yelling slurs like "Timber Nigger!" at the Lac du Flambeau Ojibwe who were exercising their sovereignty and treaty rights to return traditional walleye spearfishing to their culture. I always had to remind my father that First Peoples are more than beads and pow wows.
One February as a 10-year-old boy, I skipped school and took a bus to the edge of Appleton and then walked 15 miles — much of it across the shifting ice of Lake Winnebago — to get to High Cliff State Park where the dolomites of the Niagara Escarpment are exposed, creating a high overlook of limestone, fossils, forest, and effigy mounds.
I told my kids about this trip — of how my mother almost took out the wooden spoon as we walked through the still-recovering second-growth forest among the mounds, shaped like panthers and dragonflies and containing the remains of people who died the winter before their construction — with peeps to overlooks of the lake and industry and the residential and agricultural sewage. I asked them to imagine, as I once did, what it was like before the white invasion, when there were grand hardwood forests surrounding extensive, productive wetlands filled to the brim with fish under clouded, flocked skies in the meeting place of extensive cultures, where the Mississippian and West meets the Woodlands and those to the Pole and East.
*********
As I said earlier, we started in Utah in the Bears Ears region, and I needed a break from following and writing about the theo-con sovereigns.
Utah is indeed The Place, and I, like many, have been drawn to it like flies to shit. I've put thousands of miles on my feet and have consistently been called to the layer cake, P/J, crypto, archeo and cryptic region soon to be called Bears Ears National Monument that, as a white, I better know by its U.S. geological names. My first Utah explorations were Cherry, Woodenshoe, and the depths of Dark Canyon itself.
My favorite place in the area is not in a canyon. Instead, it is the Lime Canyon Road that ends in what I hope to formerly be the greatest car-camping spot on the planet, overlooking the Valley of the Gods from a 2,500-foot cliff with views from Colorado's San Juan Mountains and Ute Mountain to Shiprock in New Mexico to — of course — Monument Valley, Navajo Mountain, and Doko'o'osliid in Arizona. Incredible vistas of hundreds of miles. A relatively easy 4WD two-track that takes time gets you there, and near the end, just before a series of turns through trapping sand dunes, the road ruefully runs through a midden that 20 years ago, when I was last there with friends dancing on the rim, was full of "garbage." My bet is that it has since been cleaned up by thoughtful citizens.
From this vantage point to cities of Mesa Verde, Chaco, and Betatakin/Keet Seel, it is easy to see why peoples of grand civilizations, past and present, revere the Bears Ears region. At both sunrise and sunset in the bonsai forest, you can be a shadow hundred yards long on the slickrock at the edge of the abyss, a beautiful human silhouette among distant otherworldly geologic silhouettes, of all lines, mostly showing off her curvy beauty in the magic hours when it matters most. As the night progresses with a full moon or just Milky Way stars, you never need a flashlight to find your way. On one occasion, I was with my beloved brother as the Hale-Bopp comet was blooming in the sky to the north over Bears Ears.
I'll not be going back to the site by vehicle and feel some shame — it should have been closed long before even I got there by the BLM — and when Bears Ears National Monument is made official, it should be closed, protected by the distance of almost a dozen miles over a waterless landscape, respected with the self-respect it will take to get there carrying everything you need on your back and make the return. Perhaps by my own kids.
It is no secret that the Colorado Plateau and Four Corners region of the United States has archaeological resources that compare to any around the world and that also have been looted for financial profit, religion, and science. This is why there are so many national parks and monuments and why there is yet another being proposed for the Bears Ears region.
It is also no secret that there has been criminal neglect by federal public lands governmental caretakers regarding archaeological resources. The Bears Ears area has largely never been, and still is not, restricted for either wreckreationists or the landed gentry's ranged beasts who both trample and degrade the First Peoples' culture. Prosecution of looting cases is extremely rare, and when they do occur, the penalties are lenient.
Except, apparently, for the karma or consciences of some like Redd, Gardiner, and Shrader who were all federally charged and committed suicide for their looting in the area.
Wreckreationists don't care about culture, and neither do corporations — unless it is their own. People these days swing from Corona Arch and slackline canyons outside of Moab using Black Diamond equipment. They ride $7,000 Yeti bikes in wilderness areas and advocate it being legal to do so. And others feel it deeply spiritual to sleep in ruins wearing Patagonia underwear in a Marmot bag.
I've had the privilege in my life to have known many outstanding climbers and at one time during an intense period of time in the '90s was a weak 5.11 follower and no leader myself, even on Bear's Lodge during my NPS stay. I worked at Yosemite, too, where U.S. climbing believes it is centered. Most climbers were hard-drinking folks, many later broken down or dead. Almost all denied the impact of the activity on rock faces even though it was in their faces. It was more than just the impact of bolts. Beyond raptor closures, research has only recently found that these faces containsome of the oldest lifeforms on the planet that many wantonly destroy to develop or improve their climbs.
Twenty percent of the climbers at Bear's Lodge believe in the idea of multiple use (or abuse) akin to the ATV Blue Ribbon Coalition and parts of the mountain biking crew when trails are formally, or informally — or illegally — created. Akin to the small number of ranchers who graze their subsidized cattle everywhere because of their "right" to greed and culture.
Simply put, everything is not appropriate everywhere. Some places should be off limits to "inappropriate" uses, especially those contrary to the physical and legislative spirit of an area or the need for controls to protect its physical, environmental, or cultural resources. We need more places like Jasper Canyon in the Maze District and Virginia Park in the Needles District of Canyonlands National Park, off limits to the public because they are relict areas that have never been grazed or severely impacted by humans, "test plots" that provide a baseline of what public lands on the Colorado Plateau once were and what could still be.
Federal land agencies listen to many voices, that of First Peoples being only one of many. We do know that as bureaucracies they are beholden to those they regulate, and these include the resource extraction, agriculture, and industrial tourism industries and their corporations that depend on unrestricted, unlimited access. The motivation for the public lands agencies is, unfortunately, not spiritual. Instead, it is to quell critics that have financial and political influence, and it will only do "the right thing" when publicly shamed.
Climbing a sacred national monument such as Bear's Lodge, regardless of the "climbing history" by white people over the last 120 years, must cease out of respect for First Peoples and their cultural beliefs. Anyone who suggests otherwise is selfish. If the NPS doesn't do it, the people will, as the chief ranger at Bear's Lodge confirmed something I already knew: that people along the Tower Trail heckle climbers not observing the voluntary June ban. I like it as it's democratic shaming at work, a village doing it's job like at a fascist KKK rally. But it has proven to be not enough.
Like at Bear's Lodge, Bears Ears also has an Andy Petefish. His name is Monte Wells, federally convicted for riding ATVs through archaeologically rich Recapture Canyon with San Juan County Commissioner Phil Lyman. Wells, who says he is a trained archeologist and owns an internet rag, The Petroglyph, has a map-making business called Off the Beaten Path that appeals to the ATV crowd whereby he disclosed class 3+ sites to be exploited, including burials. He and Lyman have led the charge against Bears Ears being formally designated. We all should thank them for their helpful efforts toward the cause of formally protecting the Bears Ears by illustrating the threat of white theo-constitutional wreckreationists.
Adding insult to injury, it is also no secret that Wells' and Lyman's Church of Jesus Christ of Latter Day Saints, through Brigham Young University and it's archeology program, has looted for 150 years with a purpose: to "prove" the Book of Mormon and that North American indigenous peoples are Lamanites. Like Wisconsin farmers of old, many southern Utah Mormon homes contain cultural artifacts and the remains of First Peoples that put museums to shame. In the case of Mormons, they still join clubs like the Book of Mormon Archeology Forum to share their theories and finds.
*********
"Know that you yourself are essential to this World. Believe that! Understand both the blessing and the burden of that. You yourself are desperately needed to save the soul of this World. Did you think you were put here for something less? In a Sacred Hoop of Life, there is no beginning and no ending!"  —Chief Arvol Looking Horse
The Hoop of Life is evident once again through my unknowingly meeting Mr. Looking Horse and being inspired to tell this story and to have my kids become witnesses and a part of it — priceless for the future of the planet of which they will, hopefully, share with efficacy.
Devils Tower National Monument was designated as America's first national monument by Theodore Roosevelt three months after the Antiquities Act was signed in 1906. "Devils Tower" is an offensive term to aboriginal people, one intentionally created to discredit in an attempt to eliminate the Sundance and the lodge's cultural and spiritual importance. In order to resolve the issue of the Establishment Clause conundrum, accompanying an executive order using the Antiquities Act to rename Devils Tower to Bear's Lodge should be a concomitant effort to return this national park site to First Peoples like the Sioux and Cheyenne.
The same is true for using the act to set aside Bears Ears, except that it should be given to the Hopi, Navajo, and Ute.
Uncontrolled access to ruins and other sensitive cultural sites on United States public lands must stop, whether it be by innocent tourons from all over the world, incited by a wreckreation industry, crowding into, climbing onto, or riding over sacred sites by the millions; by delusional manifest destiny religious locals hell-bent on proving their god through "scientific" collecting; by craven looters selling black market goods to wealthy clients; or by those who wish to legally capitalize on another's culture.
Twenty years later, I no longer think entirely like a bureaucrat. I believe these sacred lands should be returned to the first sovereigns, and we should not be surprised should they once again come to reclaim them. It is their right.
In my now grown perspective, I know the First Peoples are far more likely to respect and care for them and more likely to ensure they are not exploited for financial greed, recreational pursuit, or again usurped by another race and culture entirely.
Our nation's first sovereigns deserve support in their effort to reclaim their sacred sites in the United States — places like Bear's Lodge and Bears Ears and others like Dook'o'oosłííd (AKA San Francisco Peaks) in Arizona that is being despoiled by the piss water snow of Flagstaff.
Putting these "public" lands in the control of aboriginal people who consider them sacred is the next step. It's the right thing to do, and it will naturally result in an increased protective presence on the ground because it is based on a respectful reverence that my invading culture never has and never will offer.
Unless.