On the eve of the Oregon Standoff trial, the Internet and social media were abuzz with the news that the Government is dismissing Oregon charges against Journalist/Defendant Pete Santilli. This is an interesting development, and may open a pandora's box of questions regarding the government's case.  Story reposted from KTVZ.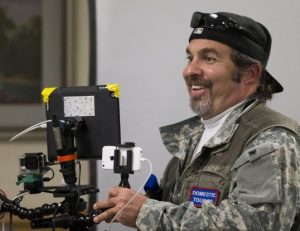 PORTLAND, Ore. (AP) —  According to Steven Dubois for KTVZ, Federal prosecutors want to drop a federal conspiracy indictment against a self-described independent broadcaster who was present at the standoff at a remote Oregon national wildlife refuge earlier this year.
Peter Santilli was the lone person of eight defendants set for trial this month who never stayed overnight at the Malheur National Wildlife Refuge near Burn, and his attorney argued much of the material he broadcast was protected under the First Amendment.
The Oregonian/OregonLive reports (http://bit.ly/2c5JJUU ) that in a motion filed late Tuesday afternoon, federal prosecutors urged the court to dismiss the indictment against Santilli. He faced a charge of conspiring to impede U.S. Interior Department employees at the refuge through intimidation, threats or force.
Santilli, also facing indictment in Nevada stemming from the April 2014 armed standoff with federal officers near Bunkerville, Nevada, will remain in custody but be transferred to Nevada to face the charges in that case.
---
Earlier story:
Trial is gearing up this week for armed ranchers who took over a national bird sanctuary in rural Oregon to oppose federal management of public lands.
Jury selection starts Wednesday in the case against Ammon Bundy, Ryan Bundy and six others who helped seize Malheur National Wildlife Refuge on Jan. 2. They are charged with conspiring to prevent federal employees from doing their jobs. Several others were indicted, and many have pleaded guilty.
Most key figures were arrested during a Jan. 26 traffic stop that ended with police fatally shooting Arizona rancher Robert "LaVoy" Finicum, a spokesman for the occupation. Others left after Finicum's death, but four holdouts extended the standoff to 41 days.
Here's a recap of the takeover and a look at what to expect at trial:
___
WHO ARE THE DEFENDANTS?
Occupation leaders and brothers Ammon and Ryan Bundy; two of the last holdouts, David Fry and Jeff Banta; as well as Shawna Cox, Pete Santilli, Kenneth Medenbach and Neil Wampler. All are charged with conspiring to impede U.S. Interior Department employees at the refuge through intimidation, threats or force.
Cox, Fry, Banta and the Bundys also are charged with possessing a firearm at a federal facility. Cox, Mednenbach and Ryan Bundy are acting as their own lawyers.
___
WHY WERE THEY AT THE REFUGE?
It started as a protest against the imprisonment of two Oregon ranchers convicted of setting fires and grew into demands for the U.S. government to turn public lands over to local control.
The father-and-son ranchers distanced themselves from the occupiers, reporting to prison two days after the standoff began. Ammon Bundy and others contend that the Constitution limits federal power to acquire and own property within a state's borders, revealing the larger dispute over the government's control of vast expanses of Western range.
___
HOW DID THE OCCUPATION END?
The Bundys and other leaders were driving to a community forum when police stopped and arrested them. Finicum fled and crashed his truck into a snowbank to avoid a police roadblock. Authorities say he was reaching for a weapon when he exited the vehicle and that's when Oregon State Police officers opened fire.
The four occupiers who remained after Finicum's death finally surrendered on Feb. 11 after protracted negotiations with federal authorities who surrounded the refuge.
___
HOW MANY PEOPLE FACE CHARGES?
A total of 26 people were charged with conspiracy. Eleven have pleaded guilty, including several from Bundy's inner circle. Seven defendants sought and received a delay in their trial, now scheduled for February.
___
WHAT'S THE GOVERNMENT'S EVIDENCE?
The takeover received extensive media coverage, Ammon Bundy gave daily news conferences and the group used social media in a mostly unsuccessful effort to get others to join them. In short, there's no question the group occupied the refuge. Prosecutors have said the evidence includes seized weapons, thousands of photographs, thousands of hours of video and reams of information gleaned from social media.
___
WHAT'S THEIR DEFENSE?
They claim they used their First Amendment rights to engage in a peaceful protest and that those with guns were exercising their Second Amendment rights. The occupiers contend that nobody was threatened, no workers were impeded from performing their duties and the government fired the only shots. Moreover, they say those shots, which killed Finicum, showed why they needed guns for protection.
Defendant Pete Santilli, an internet talk show host, asserts he never occupied the refuge and was only there as a journalist.
___
IS THE TRIAL GOING TO LAST LONGER THAN THE OCCUPATION?
It looks that way. U.S. District Judge Anna Brown has set aside three days for jury selection, and opening statements are tentatively scheduled to start Sept. 13. The trial is expected to take two or three months.
___
AREN'T THE BUNDYS ALSO FACING TRIAL IN NEVADA?
They and five others from the Oregon case have been charged in a 2014 armed standoff with federal agents near their father Cliven's cattle ranch in Bunkerville, Nevada. The three Bundys are scheduled for a February trial in Las Vegas.
The elder Bundy drew national attention after his sympathizers pointed weapons at agents rounding up his cattle on public land. The U.S. government says he racked up more than $1.1 million in unpaid grazing fees and penalties over two decades, while Cliven Bundy claims it has no authority over the land.
Several people took part in both standoffs. Federal officials were widely viewed as having backed down from the elder Bundy, possibly emboldening the Oregon occupation.
Cliven Bundy was arrested at Portland International Airport in February when he arrived to visit his sons.
Jury selection starts Wednesday and could last three days. Here's a look at the defendants:
___
AMMON BUNDY
The occupation leader, 41, of Emmett, Idaho, speaks in measured cadences about the U.S. Constitution and how, in his belief, it limits the federal government's ability to own public land. He has a wife and six children, owns a fleet-maintenance business and resides on a property that includes an orchard with 240 apple trees.
___
RYAN BUNDY
Ammon's brother, 43, of Cedar City, Utah, whose facial injuries stemming from being hit by a car as a youth make him easily identifiable. Authorities say he planned an escape from jail and also got into a scuffle with a guard. He and his wife, Angie, have eight children. She maintains a blog that provides an unvarnished look at their family life.
___
DAVID FRY
Known as "The Last Holdout," the 28-year-old from Blanchester, Ohio, surrendered Feb. 11 after a lengthy negotiation that was carried live on a YouTube feed. He talked of UFOs, requested pizza and marijuana, and threatened to kill himself. Defense attorney Per Olson has said a mental health expert will testify that Fry suffers from a personality disorder characterized by paranoia, and it intensifies under stress.
___
JEFF BANTA
The 47-year-old of Yerington, Nevada, was one of the final four occupiers. He arrived at the refuge Jan. 25, a day before the Bundys were arrested and Finicum was killed.
___
SHAWNA COX
The 60-year-old from Kanab, Utah, was in the truck with Arizona rancher Robert "LaVoy" Finicum before he was fatally shot by Oregon State Police. Cox sued the U.S government after her arrest, seeking damages "from the works of the devil in excess of $666,666,666,666.66." A judge allowed Cox to act as her own lawyer but warned her not to question the authority of the court or take other "screwball positions."
___
PETE SANTILLI
The 50-year-old is an independent broadcaster from Cincinnati, Ohio, who live-streamed the occupation. He contends he covered the protest as a journalist and stayed at the Silver Spur Motel rather than the refuge. A federal judge kept Santilli behind bars before trial, citing threatening remarks made during online broadcasts. Santilli's lawyer said those comments were just "shock-jock bravado."
___
KENNETH MEDENBACH
The only Oregonian on trial, Medenbach, 63, has been fixated on whether U.S. District Judge Anna Brown took the appropriate oath of office when she was appointed in 1999. He's repeatedly brought it up at pretrial hearings and filed a lawsuit on the issue that was quickly dismissed. He's from the city Crescent.
___
NEIL WAMPLER
A former woodworker, the 69-year-old from Los Osos, California, was convicted in 1977 of second-degree murder in the death of his father. The Tribune of San Luis Obispo reported that he has previously written letters to the newspaper criticizing gun control measures.