According to Maxine Bernstein & the Oregonian/OregonLive, before prospective jurors file into Courtroom 9A in the federal courthouse in downtown Portland Wednesday morning, the judge is expected to rule on whether the defendants in the Oregon standoff case who are in custody can wear neckties, belts and boots at trial as requested.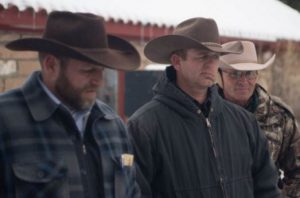 Ammon Bundy's lawyer J. Morgan Philpot, argued that his client is innocent until proven guilty, and should be allowed to wear the civilian clothes that he chooses.
"We would prefer our clients not look like disheveled slackers in front of the jury," Philpot told the judge during Tuesday's last pretrial conference hearing.
Philpot added later in the day in a written motion, "These men are cowboys, and given that the jury will be assessing their authenticity and credibility, they should be able to present themselves to the jury in that manner."
Ammon Bundy remarked in court that he's never even worn slip-on shoes or loafers before court on Tuesday.
On August 27, the U.S. Marshal's Service sent an email to defendants, alerting them that certain clothing items won't be permitted at trial: "Ties, Bows, Belts, Handkerchiefs, Cuff Links, Steel toe boots/shoes, Shoe laces, Shirt tie down straps, Safety pins, Shirt pocket pen protectors."
As a result, Ammon Bundy arranged to wear non-steel toe boots but was informed those aren't allowed either.
U.S. District Judge Anna J. Brown Tuesday afternoon asked Barbara Alfono, the deputy U.S marshal in charge of the Bundy trial, about the dress code.
Alfono said the defendants who are in custody cannot wear ties, boots or belts as safety precautions.
Those accessories could be used as weapons against deputy marshals or the defendants themselves, she said. Further, the defendants will be wearing shackles around their ankles when they're taken to and from the courthouse, and boots would interfere with them. Those shackles, however, will be removed once the defendants are in the courtroom.
Philpot pressed further in court Tuesday, asking if he could provide boots for his client to change into once he's led into the courtroom, and before the jury is brought in.
The judge advised Philpot to file a motion by the end of the day Tuesday, and cite any prior court rulings on the matter.
Philpot, in his motion, said he and co-counsel Marcus Mumford were not able to find a U.S. Supreme Court or U.S. 9th Circuit Court of Appeals case on point that declared a defendant's right to be tried in the clothes of his choosing.
Instead, they cited a 5th U.S. Circuit Court of Appeals ruling that found because of a defendant's presumption of innocence, "(n)o insinuations, indications or implications suggesting guilt should be displayed before the jury, other than admissible evidence and permissible argument."
"We would prefer our clients not look like disheveled slackers in front of the jury." -Attorney J. Morgan Philpot
Ammon Bundy and his brother Ryan Bundy both wore suit jackets to court Tuesday because the court took photos of them to place in a juror's book that will be handed out at trial. Ammon Bundy wore a gray suit jacket over a white dress shirt. His brother wore a dark suit jacket over a light blue dress shirt.
"He looks very presentable," the judge said of Ammon Bundy.
She described his clothing as "perfectly appropriate for court."
But Philpot argued in his written motion that the judge's opinion was based on a view of Ammon Bundy seated. Yet at trial, he will stand and likely take the witness stand to testify in his own defense, his lawyer said.
"We must consider, when he does so, how will he look? And what are the spot assumptions and impressions will the jury have about him when they see him in the kind of white socks and loafers he was wearing today, with his beltless trousers, and dressed in a formal suit without a tie," Philpot wrote. "Just as significantly, how will the lack of belt, tie, or other apparel compare to others in the courtroom, as he and the other detained defendants are the only ones who will appear that way."
The only other co-defendant on trial this month who remains in custody is David Fry. On Tuesday, he wore a blue sweater to court.
Co-defendant Jeff Banta wore a gray dress shirt with jeans. Co-defendant Shawna Cox wore a black blazer and long skirt, and defendants Neil Wampler and Kenneth Medenbach each wore plaid shirts with pants.
Assistant U.S. Attorney Ethan Knight urged the court to maintain the U.S. Marshals Service restrictions on the in-custody defendants' dress. He argued that no prejudice arises from the clothing restrictions.
The judge urged the Bundys' lawyers to bring ties and belts and boots to court for their clients Wednesday in case she overrules the U.S. marshals after considering the matter further.
In other action, Ryan Bundy Tuesday challenged the government's theory that he may have "aided and abetted" in the theft of government property, specifically regarding his alleged stealing of government cameras in mid-January.
Ryan Bundy cited "basic Biblical principle," noting, "A man will be accountable for his own sins and not that of another."
The judge quickly dismissed his argument.
"Mr. Bundy," she said, "the Biblical standards don't apply."