According to the Oregonian, POOR PLANNING AND TACTICAL ERRORS FUELED A WILDFIRE CATASTROPHE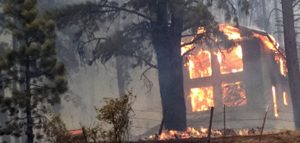 The Malheur National Forest was on red alert.
Weather forecasters were calling for abundant lightning and strong, gusty winds. Months of drought and record-breaking summer temperatures had left the eastern Oregon forest tinder dry. Conditions were so extreme, the forest's managers applied for and received emergency money for extra firefighting crews.
Then, as if on cue, lightning strikes started a dozen fires on Aug. 12, 2015 — exactly a year ago. Within two days, gale-force winds fanned the two most substantial starts into a ferocious firestorm that raced through the Canyon Creek community south of John Day.
The wildfire ultimately destroyed 43 homes and nearly 100 barns, workshops and other structures. Cherished pets. Family heirlooms. Livestock. Tools. Trucks. Timber. Much simply vanished, vaporized at temperatures that in places hit 2,000 degrees, leaving puddles of melted metal and glass on soil baked to a glassy sheet.
Managers with the U.S. Forest Service insist they did everything possible to contain the wildfires at Mason Spring and Berry Creek, which combined to create the Canyon Creek fire.
They blame high winds, drought and a lack of national resources to supplement their own forces. In the end, they say nothing more could've been done to prevent this act of God that cost $31.5 million to extinguish.
"We did everything we could with the resources we had available at the time to put those two fires out," said Steve Beverlin, supervisor of the Malheur National Forest. "Sometimes Mother Nature has other plans. That's what happened."
But an investigation by The Oregonian/OregonLive has found systemic problems within the Forest Service that left the Malheur primed to burn. And a cascading set of tactical errors slowed the agency's response and squandered its chances to extinguish the fire early.
* * * * * *
RANGE / RANGEFIRE! — Addressing Issues Facing the West / Spreading America's Cowboy Spirit Beyond the Outback