BLANDING — San Juan County Commissioner Phil Lyman had a lot of time to think in his jail cell. He said he had several epiphanies while he read "Hamilton," jotted notes in the margin with a borrowed golf pencil and chatted with his 20-year-old, drug-addicted bunkmate.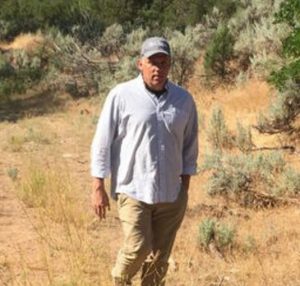 Perspectives change behind bars. Lyman says he walked out of the Washington County Jail humbled. But one thing didn't change: He still doesn't believe he broke the law when he led an ATV protest ride in nearby Recapture Canyon.
"My only argument in this whole thing is I didn't trespass," Lyman said during a recent hike on the same path that put him on the wrong side of the federal government. "I didn't trespass."
Now four months removed from his 10-day jail stint, Lyman, 52, hasn't given up on clearing his name. He's working on an appeal of his conviction. But he also has some new interests born of sharing a cell with a drug addict. He also continues to speak out on federal land management issues and states rights and, interestingly, opposes Utah Rep. Rob Bishop's controversial Public Lands Initiative.
A jury convicted Lyman and Monte Wells in May 2015 on misdemeanor charges of conspiring to operate off-road vehicles on public lands closed to off-road vehicles, and operation of off-road vehicles on public lands closed to off-road vehicles. Wells spent five days in jail. They're also on the hook for $96,000 in trail restoration costs.
Some 200 people followed him on the protest ride, and as U.S. District Judge David Nuffer told him, "when you strike a match, you're responsible for the fire."
The Bureau of Land Management temporarily closed sections of the 37-mile-long canyon to motorized vehicles in 2007 over concerns of damage to ancestral Puebloan ruins. Many locals objected, asserting the closure was arbitrary and unnecessary, and thwarted a mandated federal review process.
Not the outdoorsy type, Lyman and his illegal ATV ride was only his second venture into Recapture Canyon, the first coming when he was in high school. He doesn't own an ATV and rented one for the ride, yet he became the poster child for ATV rights.
"A sad irony," he says.
Recapture Canyon
Vegetation now chokes much of the trail along Recapture Creek, a tributary of the San Juan River, just outside Blanding. Centuries-old cliff dwellings of Ancestral Pueblo peoples overlook the canyon which also contains burial sites and artifacts. Signs of any kind of traffic, foot or otherwise, are absent.
Lyman stops at the turnaround point of the May 10, 2014 ATV ride on what's called the pipeline road. He again makes his argument for why he believes the federal government wrongly prosecuted him. He maintains the road belongs to the county road and as county commissioner he had a right to drive on it.
"I've always been taught to live your life above reproach. It doesn't mean that you hide and don't ever do anything. It means that whatever you do, you make sure that you have a good foundation for why you're doing it and that you know why you're doing it," Lyman said.
"In this situation, I believe that my actions from start to finish are above reproach."
Prosecutors didn't see it that way, telling the jury during the trial that Lyman knew what he was doing was illegal but did it anyway. He chose crime, they said.
Lyman disagrees and said he would do it again to stand up for his principles and for the people he represents as an elected official.
"If it means going to jail, I would go to jail again for your rights or anyone else's rights to do what is not illegal in America and without the fear of prosecution," he said.
Lyman, a certified public accountant, said defending himself has cost $330,000 so far, money he says that came from his own pocket, family, friends and people he still hasn't paid back. He's now representing himself because "I'm broke," and writing his own appeal.
"Even though it's not a really good legal brief, it's a really good factual brief. And that's all I was interested in, getting the fact on the record in court," he said.
Lyman spent his time in jail reading "Hamilton," making notes in the margin and writing his thoughts. He talked a lot to his cellmate who is in for drug possession.
"You're incarcerated. You're a prisoner. It's not a field trip. It takes away a lot of your dignity," he said.
Lyman is on federal probation for three years, and must regularly communicate with a probation officer. He's also supposed to let the officer know if he comes in contact with anyone who has a criminal record.
"I said are you kidding? I live in Blanding, Utah. Everyone has a criminal record thanks to you guys. I said my home teacher can't come without me checking in with you," said Lyman, a member of The Church of Jesus Christ of Latter-day Saints.
Unexpected lessons
Lyman said some "deeply personal things" happened in jail that he doesn't want to get into publicly.
But he said he came to a realization about the way society treats drug addicts. He said his cellmate, who he called a "fantastic kid," lost his job, apartment and truck due to his addiction. He said he's not a dangerous person, just someone who needs love and support.
Only an "insane society," Lyman said, would ruin something it could repair so easily.
"It's kind of shifted my focus from some of these public lands issues to incarcerating people under this war on drugs and destroying families," he said.
Still, he's never far away from the lands controversy. He's against the proposed Bears Ears National Monument, a designation he said should be an honor not a punishment. At the same, time the Republican commissioner doesn't support Bishop's public lands proposal.
San Juan County, he said, didn't get what a local public lands advisory council spent many meeting agreeing on. He said he was surprised to see energy zones, resolution to some historic road issues and several key land exchanges removed from the plan, and told Bishop so at public hearing on Bears Ears earlier this month.
"I feel betrayed by the PLI at this point, but I am still in favor of the process that was initially promised," he said.
Whether Congress passes Bishop's bill and resolves some of the divisive land management issues in southeastern Utah remains to be seen. And Lyman's protest ride didn't change anything but left Recapture Canyon a symbol of conflict. The same concerns that existed then, exist now, and maybe further entrenched the various and opposing interests.
Lyman, who hasn't decided whether to run for a third term as commissioner, said he won't back down from doing what he believes is right for San Juan County and its residents.
"I love this country, its founder, its principles. I hate to see the law perverted and used against innocent people. You feel like you have an obligation to stand up," he said.
"But at the same time, I am very respectful. I am one of the most — I sound like Donald Trump — I am one of the most respectful people I can think of to interface with the BLM on this and for them to paint me as the opposite of that it's not fair, it's not right, it's counterproductive."
Lyman said his father's advice to him was to never equivocate. His mother's advice was to always be a gentleman.
"What it comes down to," he said, "is you have people who are passionate and I hope that at some point when I meet my maker that I will not be guilty of ambiguity and equivocation."
RANGE / RANGEFIRE! — Spreading America's Cowboy Spirit Beyond the Outback