Alongside steers named Angus, Heifer and Duke, one name stood out at the Douglas County Fair: LaVoy — as in LaVoy Finicum.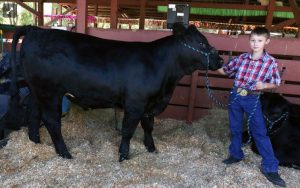 According to the News-Review, a local Oregon paper, LaVoy, a 1,030-pound black Maine-Anjou who earned a third-place finish at the fair, was named after the spokesman for the militia-led occupation of the Malheur National Wildlife Refuge who was shot and killed during a police confrontation on a remote highway outside the town of Burns.
He was named by 10-year-old Ryley Schneider of Roseburg, who wanted to memorialize Finicum's actions in beef.
 "LaVoy is a hero who stood up for all of our rights and I believe in him — we all believe in him," Schneider said while wearing a golden belt buckle and an oversized gray T-shirt both with an "LV" logo printed on them. "He stood up for our rights and was just a good man."
Finicum, 54, remains a sympathetic figure to many in rural Oregon who feel the federal government has over-regulated in industries like logging and cattle grazing. In January, Finicum and over 20 other people took over the Eastern Oregon refuge to protest perceived government overreach for more than 40 days. Finicum was the only fatality. In March, state officials announced state troopers involved in the shooting were justified in their actions because they feared for their lives.
A few months later, a grand jury began hearing a federal investigation into an FBI agent accused of tampering with evidence and not reporting firing shots at Finicum during the incident.
Schneider said he spent hours each day preparing LaVoy for the fair — having the cow stand on hillsides for prolonged periods of time and walking LaVoy up and down the slopes to achieve a "squared-off" look on the steer's rear.
"It took a lot of hours, but it's all paid off," he said.
With his winnings, Schneider said he plans to donate as much as $200 to Finicum's wife.
"She was there and saw her husband get shot," Schneider said, "So I wanted to give her some money to help."
Despite being described as shy by his mother, Schneider said when he heard the news of Finicum's death, he knew something had to be done.
"When I heard the news I didn't feel happy," he said. "I felt sad and mad and I didn't know why it had to happen. He was standing up for everyone's rights and then he got shot and died. I just didn't like that."
On top of honoring Finicum by dedicating his steer after the man, Schneider took it upon himself to talk to people at the fair about Finicum and handing out pocket-sized copies of the U.S. Constitution to police officers.
While emanating pride for her grandson, Sarita Rivera, of Glide, said she hopes people won't soon forget the takeover and continue to be aware of the court proceedings.
"I just want our political prisoners released," she said. "It's not right what our government is doing, and this should never of happened to LaVoy, getting shot with his hands up."