SALT LAKE CITY — A San Juan County commissioner and others "crossed the line" when they drove off-road vehicles into a closed southeastern Utah canyon as a protest against the Bureau of Land Management, a federal prosecutor said Wednesday.
Phil Lyman knew the BLM had closed Recapture Canyon but organized a rally and an ATV ride through it last May to express frustration and disagreement with the federal land management agency, said assistant U.S. attorney Lake Dishman.
"This was an act of defiance against the BLM," he said.
Lyman, Monte Wells, Shane Marian and Franklin Holliday are on trial in U.S. District Court for allegedly conspiring to operate off-road vehicles on public lands closed to off-road vehicles and operation of off-road vehicles on public lands closed to off-road vehicles on May 10, 2014.
Both counts are misdemeanors and carry up to a one-year prison term, 12 months' probation and a $100,000 fine.
Dishman said Lyman and others could not have been confused or mistaken about where they were riding.
"They chose to cross the line," he told the nine-man, three-woman jury.
In his opening statement, Lyman's attorney, Jared Stubbs, described the ATV ride as a "lawful political protest" against BLM delays and inaction.
The BLM temporarily closed the canyon to motorized vehicles in 2007 over concerns of damage to ancestral Puebloan ruins. Many locals objected, asserting the closure was arbitrary and unnecessary and thwarted a mandated federal review process.
San Juan County has sought right-of-way access in the canyon, a decision that has been pending for more than seven years.
Stubbs said the closure frustrated area residents who had visited the canyon their entire lives but they agreed to work with the BLM to do what was needed to reopen it. But year after year, he said, the BLM did not reopen the canyon.
Lyman believes he has a right to be in the canyon and did not violate the law, Stubbs said.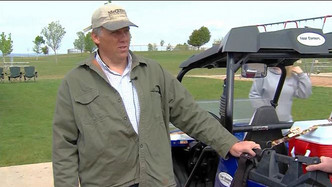 Lyman told reporters last spring that he organized the ride to protest the decreasing access to ATV trails on public land. At least 50 people participated.
Josh Ewing, executive director of the conservation group Friends of Cedar Mesa, testified that he filmed the ATV ride in the canyon. He serves on a local lands council with Lyman and described him as a hard-working, knowledgeable public official.
"I've never seen him break any laws except for what some people would say is breaking the law in this case," he said.
Ewing testified that leading up to the ride, some people in San Juan County thought it was going to be legal.
Former BLM state director Juan Palma testified that he received an email from Lyman two months before the protest ride, saying he hoped Palma would take action to turn it from an illegal ride to a legal one. Lyman closed the email writing, "I will make sure you have an ATV to ride with us."
Under cross-examination, Palma testified that he received an April 30 email from Lyman that said he didn't plan to break any federal laws on May 10.
Lyman's attorney also reminded Palma of a May 1 recorded telephone conversation in which Palma told the commissioner he hoped Lyman could "walk or ride" in the canyon as part of a "celebration."
Palma said he appealed to Lyman not to ride ATVs in the canyon.