This past week, we've been reminded of one of the biggest reasons we moved to Millard County — FREEDOM.
Prior to our move to Kanosh  over 10 years ago, we had lived in Kanab for over 10 years, mixed with a shorter 3 year stint in Cedar City.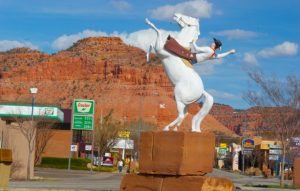 When we first moved to Kanab and the Utah/Arizona border, that area had a diverse, mixed economy, with a strong tourist trade, with motels, restaurants and shops catering to visiting tourists passing through Kanab on their way to and from surrounding National Parks.  But the foundation of the local economy was a robust, productive natural resource-based economy, based on ranching, logging and mining.  The biggest employer in the area was Kaibab Forest Industries, with big sawmills in Panguitch, Escalante, and Fredonia, Arizona.   There were several good sized mines on the Arizona Strip, and many thriving ranching operations.  Before that, the Western Movie Industry had a strong influence on the local economy, and that culture and persona still survived to give Kanab a lasting "western" flare, asserting that Kanab was one of the places "Where the West Was Won."  We owned a nice little ranch in Johnson Canyon, with emerald green alfalfa fields, surrounded by red rock mesas.  That was almost 25 years ago.

The foundational underpinnings of the local economy all changed in the 13 years we lived and/or owned property in Kane County.  Kaibab Industries laid off all its timber harvest crews, truckers, and shut down its sawmills.  The mines closed.  And the Grand Staircase-Escalante National Monument was created.  The largest ranching operations (Kane & 2 Mile Ranches, running a combined total of 3500+ mother cows) were acquired by the Grand Canyon Trust, which sought to remove the cattle, and end grazing on the applicable BLM and Forest Service allotments.
As a result of these changes, the biggest employers in the area became the Federal Government, Best Friends Animal Sanctuary, and Stampin' Up.
But, even more importantly, there were drastic changes in zoning and land-use ordinances governing the use of private property.  Today, almost all productive land uses are gone.  Thanks to all that, at this point Kanab is much more like Sedona, Arizona.  Still a fun place to visit, sometimes, but I'm sure glad we don't live there anymore.
Kanab was settled like many early Mormon communities, where people lived in town and traveled back and forth to their farms and ranches.  Consequently, many of the ranching operations were headquartered in town, on 1-5 acre lots where ranchers would often keep their saddle horses, and a few cows, as they shuffled livestock back and forth to their outlying ranches.  It also wasn't uncommon for families to keep a milk cow, and a few chickens.  In the Fall, it was not unusual for some of the ranchers to bring their calves to town to wean, and possibly feed for a month or so before selling.
If you've ever been around calves that are in the process of being weaned, they can be kind of noisy, as they beller and bawl for their mothers for 2-3 days.  But around Kanab, that all used to be part of the seasonal annual cycle, just as much so as the deer hunt, Homecoming, and the 24th of July parade.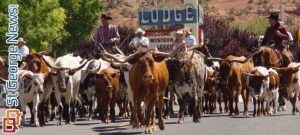 With its mild winter climate and beautiful redrock scenery, however, Kanab also became a popular spot for early retirees.  Although remnants of the Western Movie Industry still attempt to give the town that superficial Western flare, as more and more people moved into the area, more and more of them disliked the sounds of weaning calves bawling, milk cows bellowing, and roosters crowing.  So, they started putting pressure on Kanab City to adopt new zoning and land-use ordinances restricting traditional land-uses, and limiting the number of animals that could be kept in town, along with tighter restrictions on a whole bunch of other things.
At the time, the Utah League of Cities and Towns was offering an Agenda 21-inspired, boilerplate model land-use ordinance developed for Wasatch Front Communities.  It addressed and took care of all of those issues, by saying that the only thing people could do with their property was what the ordinance said they could do, and they would have to have a permit to do even that.  The ordinance strictly limited livestock and animal numbers, and agricultural uses.  Because no one bothered to really read and understand the ordinance and its implications, Kanab City adopted the model ordinance without much thought, and it wasn't long before Kane County started following suit, adopting the same sorts of provisions, and requiring large tracts of land to build residences in the unincorporated county, which precluded many from being able to afford buildable property in the unincorporated county, leaving them no place to rebuild or go with their livestock.
One notable example was Mary Bulloch, whose husband had died a few years earlier, but she did the best she could to run her ranch as a widow, with a little help here and there.  Mary's ranching operation was located on 50-Mile Mountain and the Kaiparowits Plateau, right in the middle of the new national monument. Some may recall that Mary was one of the very first ranchers the BLM chose to really pick-on and try to shut down.  Claiming drought conditions, the BLM ordered her to remove her cattle, and then began to gather and impound the cattle she had missed.
Like many other ranchers in the area, Mary had a house on a larger lot in town, where she kept some of her horses part of the time, and often a few cows.  When Mary gathered her cows to avoid BLM impound, she separated the calves to wean them.  Other ranchers in the area, including David Johnson, in Moccasin, Arizona, agreed to provide a temporary home for some of her cattle.  But she had no place to go with the freshly weaned calves.  So she took them to her place in town until they could be taken to the auction.
Mary's gentrified neighbors pitched a fit.  Didn't she know how noisy weaning calves can be?  Didn't she know weaning calves was a different land-use, that wasn't included on the list of permitted uses?  Where was her special, conditional use permit?  Didn't she know that even with a conditional use permit, she couldn't have that many calves in town?  Mary knew, but had little choice.  Even after the calves quit bawling, city officials insisted that Mary had violated the zoning ordinance six ways from Sunday, would still have to have expensive permits, and even then she was only allowed to have one "large animal unit" per acre on her 5 acre lot, so the rest would have to go.  After citations and multiple visits from law enforcement, the calves ended up at our ranch in Johnson Canyon, where they remained until they went to the auction a few weeks later.
After a few experiences like that, we decided Kane County had changed to the point that we wanted to find a place where people still understood what freedom looks like, smells like, and sounds like.  So we decided to sell-out and see if we could find a place to move that still recognized the concept of private property rights, and offered a reasonable amount of freedom when it came to land-use.
After considering a number of different options, we finally settled on Millard County, and specifically Kanosh.  Unlike Kanab, which is now mostly a fake, drugstore cowboy town, Kanosh is still a real cow town — an agricultural community — where cows can still bellow, and roosters can still crow, without getting a ticket, which is why we moved here in the first place — because Kanosh was still a place where you could wean calves without breaking the law.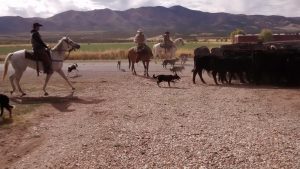 But it wasn't long before the same kinds of overly restrictive, Agenda 21-influenced land-use ordinances followed us to Millard County.   In 2008, after a two-year battle, the Kanosh Town Council adopted Title 21, a similar zoning and land-use ordinance, which was removed a year later by a referendum vote of 3-1.
Unfortunately, based on lack of respect for productive land-uses and private property rights, and seduction by urban land use consultants with their boilerplate, one-size-fits-all land use ordinances, it didn't take Millard County officials long to loose their common sense and adopt similar land-use ordinances, without reading them or giving the whole thing a second thought.  While those same officials like to brag about Armed Service members from our local communities who make sacrifices to fight for freedom half way around the world, they give little thought to depriving us of those very same freedoms right here at home.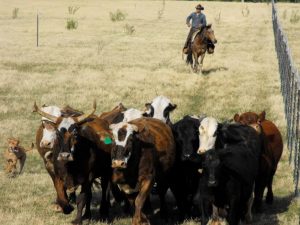 Last week, one of our neighbors decided to wean his calves early, and moved his cows into his pens and corrals right across the road from our house to keep the mother cows for a few days while they settled down.  They were pretty noisy for a day or two.  But it's a sound we can live with.  It's a sound that we will take any day over the alternative.  It's the sound of freedom.  That sound and what it represents — Freedom — is one of the main reasons why we moved to Millard County.  We moved to Millard County for the same reason the Pilgrims and our forefathers moved to the New World — in search of Freedom.  Thankfully, Kanosh is still a place where you can wean calves without breaking the law.
Freedom is becoming increasingly harder to find.  In my book, it's way more important than a little personal discomfort or inconvenience.  The big question is, if we're going to lose such fundamental freedoms here in the United States, and in a rural, agricultural area like Millard County, Utah, where else can we go to find it?